Amileka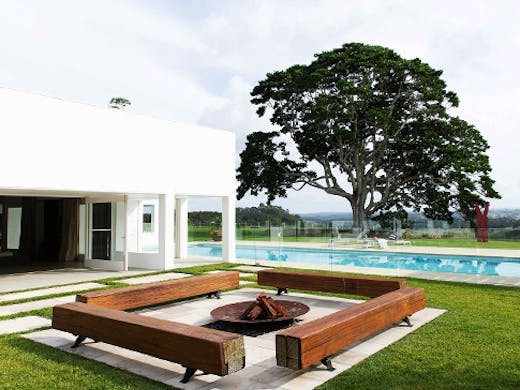 The Verdict
Amileka is an actual slice of paradise in Byron Bay.
This luxury eco-accommodation is nestled in the beautiful Byron hinterland just 30-minutes from the beach and the bustle of the town centre. The super modern property sprawls across 25-acres of land making you feel like you've lucked out on your own private retreat.
Designed by multi-award-winning architect Sharon Fraser, this hideaway has five bedrooms, three bathrooms and even a home theatre decked out with a smart TV, streaming and surround sound. That means, you literally won't want to leave.
In the master ensuite, you can soak for hours in the tub and look out over the valley around you, feeling like a true royal. Outside you'll find a fire pit with outdoor seating, an 18-metre swimming pool, an orchard and even a huge veggie garden. And yes, guests are invited to collect any produce from the farm as well as fresh eggs from the chicken coop.
Pioneering the all-important ecotourism trend, Amileka is proudly solar powered as the first-ever "Tesla Destination" in Australia. This getaway will take you beyond your standard holiday and into the future with all the high-end technology to make for a comfortable and easy stay.
If you weren't already convinced, Amelika can up their indulgence game for you by offering special services like on-site catering during your stay, and even in house pampering services. That means massages, facials and mani-pedis whenever you want.
Image credit: Supplied
---