Amy Jean Eye Couture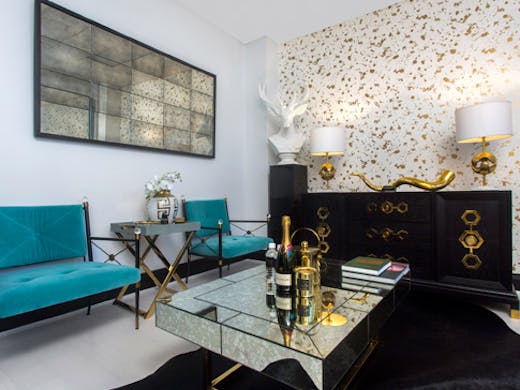 The verdict
If you know (and care) about your brow game, you have probably heard of Amy Jean Eye Couture—one of Sydney's best eyebrow specialists. Also known as the brow whisperer, Amy Jean has perfected the brows of Naomi Campbell, Danni Minogue, Delta Goodrem and Jessica Marais.
Whether you're there for a micro-stroke feather touch brow tattoo (they are some of the best in the biz) or simply to get your brows retouched, you know you're in good hands at this Sydney salon. The team here are all highly trained and specialised, meaning that there is no way you'll ever get a bad brow here.
If you want a truly luxe experience, the highly exclusive Amy Jean Privée salon should be on your list. Stepping inside this beautiful space, you'll feel a world away from the city below. With a view over Hyde Park and super lush interiors (the treatment bed is draped in a Hermes cashmere blanket!), you'll find it hard to leave.
This time, I went in for a much needed brow sculpt and a signature Lash Elevate at Amy Jean Privée. From the moment I entered the salon, I felt relaxed (the champagne on arrival probably helped that too). After a chat with Amy Jean about my lashes, I was lying on the super comfy treatment bed ready for a-curlin'.
What's great about the Lash Elevate treatment itself is that you don't have to do anything but lie there and relax. After the lifting solution is added to my lashes, a setting solution is next and left for a little while. After this, a tint and conditioner are applied and voila… Ah-mazingly curled eyelashes! These curly bad boys last for eight to ten weeks and make such a difference to your face. It also saves me valuable minutes in the morning because I now no longer have to curl my eyelashes in vain. I'm hooked.
Onto the brows, after a subtle tint and a gentle shape (more is not always more), my usual shapeless, slug-like eyebrows were impeccably groomed. Amy Jean even taught me how to apply the brow powder to get the most out of my brows well after the treatment. Days later, my brows are still behaving and are, what I like to refer to them as, on point.
Alongside the salon experience, there are a range of Amy Jean products available for purchase to keep your brow and lash game strong. A favourite is the Amy Jean Eye Couture Brow Velvet which goes on like a dream and stays on all day, which is always a win. And, if you've just had the Lash Elevate treatment, the accompanying mascara is a must as it helps to lift and lengthen your lashes for a falsie-like effect.
If your brows are in need of a bit of love, or you want to get your lashes tended to, brow queen Amy Jean and her team should be high up on your must-visit list.
Note: Amy Jean Eye Couture's prices vary depending on the artist you visit. Be sure to check their website for more details.
Image credit: Amy Jean Eye Couture
---