Archie Brothers Electric Circus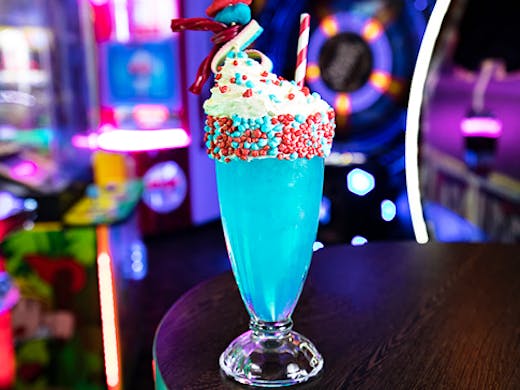 The Verdict
From the legends who brought us Holey Moley Golf Club comes an epic circus-themed funhouse that delivers on all fronts. We'll explain: this one involves everything from wild arcade games to wacky cocktails and all with a retro spin. Yeah, we're all over this one.
First up is the FUN—arcade games as far as the eye can see, amusement park activities (like the old faithful teacup and saucer ride), and a vintage redemption store to reward yourself for the hours (many, many hours) you'll spend playing Pacman. Prizes range from unicorn heads to PlayStations so you'll definitely want to be in the winner's circle.
As for food, the Dazzler Diner menu is exactly what you're expecting, with a lion tamer burger and saucy fries making a solid first impression. With food taken care of, you need to turn your attention to the cocktail list. This bad boy is packed with some odd ones—think spiked freak shakes on steroids. With names like 'let's get ready to crumble', 'electric blue' and 'the candy stand', you can imagine how extreme they are.
Oh, and there'll also be a laser tag arena, dodgem cars, 10-pin bowling and a 3D theatre that lets your test out your shooting skills. Your inner child is going to love this.
Hot tip: Don't eat before boarding the Cha-Cha.
The doors will open on 7 December and we'll just meet you there.
Image credit: Archie Brothers Electric Circus
---