BaaOinkMoo (BOM)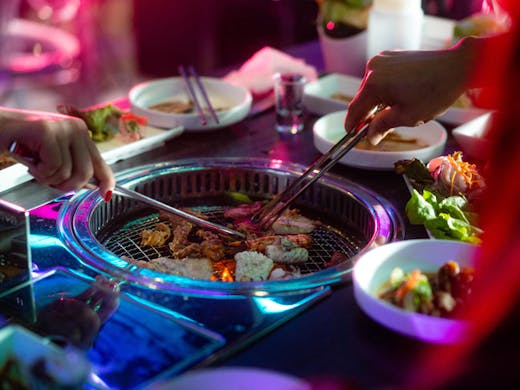 BaaOinkMoo (or "BOM" for short) is the newest Korean BBQ joint in Sydney. You'll find it over in the new Ed Square dining precinct in South West Sydney—drenched in pink and purple neon and raring for a good time.
The concept is retro arcade meets BBQ, complete with hot smokey meats, Soju shots, and DJs on the tunes. It's loud, eccentric, and perfect for a good night out with your mates.
Executive chef Peter Wu has sourced top-tier 5+ Aussie Wagyu for all the cook-it-yourself mayhem, alongside locally sourced and seasonal veggies and fish.
You also need to try the BOM signature fried chicken, which comes with your pick of coatings: sweet and spicy, snow cheese, garlic soy, or gangjung.
Thirsty? Drinks are not an afterthought here. A vibey list of Korean-inspired Soju cocktails is front and centre. Try the "Pixel Pink" with peach Soju, vodka, and grapefruit juice, or the "KPOP Cooler" with Absolut, Blue Curacao, grapefruit, and lime juice.
Expect to encounter dance battles, DJs, and live K-Pop too. BOM also features a VIP room fit for 25—complete with mirror balls and a state-of-the-art sound system.
Image credit: BOM
---