Bang Bang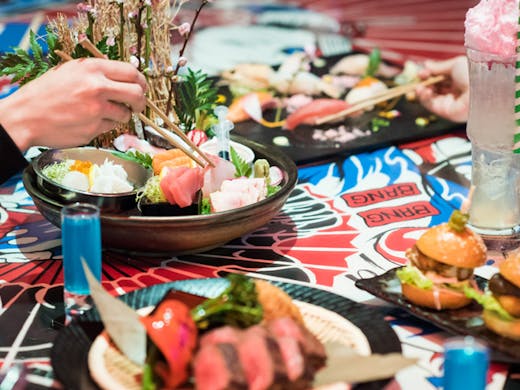 We've been waiting for Bang Bang to roll up its mysterious grungy bullet-sprayed garage door. This brand new bar is one the latest additions to Steam Mill Lane—a lively little foodie laneway tucked beside the epic, monstrous, incredible new International Convention Centre that's made visiting this sector of the city fun again.
Bang Bang is channeling the super cool back streets of Tokyo—think vintage neon street signs imported from Japan, painted lanterns, vending machines, whisky, and tables lacquered in poppy red, bright blue and black Japanese-inspired illustrations by local graphic designer Harley Johnston.
There's is a yatai stall, traditional and quiet tatami-style rooms, and a glass karaoke box for when you're feeling Friday night confident. It's all happening here: Bang Bang is so authentic, you might as well be on a night out on the streets of Shinjuku.
Lunch is casual, with chef Kokubo Yuji dishing out Japanese favourites like omelettes, udon, curries, his signature donburi, and 'The Bang Bang Tebasaki'—a tower of double-fried chicken wings doused in a peppery soy glaze. Yum.
For dinner, there's an expanded menu that includes big-time crowd-pleasers like edamame and gyoza, a robata (grill) menu, fresh sushi and sashimi, tempura, salads, and a selection of doria gratin, noodles, and rice.
Bang Bang's growing Japanese whisky menu will impress too. For connoisseurs, there's Hibiki 17 year and Yamazaki 18 year single malt. There's a selection of shochu and sake to choose from, a trademark 'Bang Bang Lager', and an entire cocktail variety dedicated to otaku—young people obsessed with pop culture. Made for two or three, 'Pump Me Up' is served in a silver polished butler pump with two shot glasses. Party. Time.
Image credit: Caitlin Hicks.
---