Bar Lucio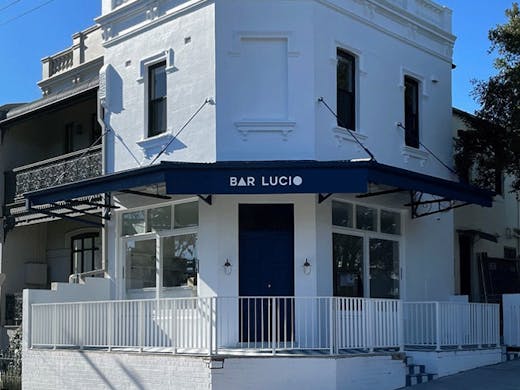 Did someone say coffee, cannoli, and fresh AF focaccia? Situated in the 'burbs of Kensington, Bar Lucio is a go-to for Italian daytime treats and top-quality Italo-style coffee. Count. us. in.
As you enter through the cobalt-painted door, you step into a small slice of Naples. Owned and run by celebrated chef and award-winning pizza maker, Lucio Del Falco, the eponymous coffee bar is for the locals. So, despite the corner building's unassuming exterior, Bar Lucio is bustling with morning coffee crowds, casual brunch-goers, and afternoon aperitivo fans.
In terms of the interior, it's got a mix-matched charm. There's a marble bar, marble backsplash, stark white cabinetry, and gold-rimmed marble tables—all juxtaposed with the kind of blue-and-white plastic wicker chairs you find outside of a run-of-the-mill trattoria.
You'll find the counter stacked high with Nutella bomboloni, pistachio cannoli, and code d'aragosto, all of which are made in-house. If you think Bar Lucio is just another Italian coffee bar serving up sweet treats, though, think again. The menu also goes hard on savoury treats like eggplant parmigiana, porchetta panino, and focaccia stuffed with ricotta, pistachio and mortadella. You can also just swing by just to pick up some of its bread that's baked in the on-site woodfire oven.
What really sets Bar Lucio above the rest, though, is its specialty Caffe del Nonno—AKA grandpa's coffee—which is a dessert-y, sweet and creamy cold coffee originating from 1800s summertime Naples.
Image credit: Bar Lucio
---