Barzaari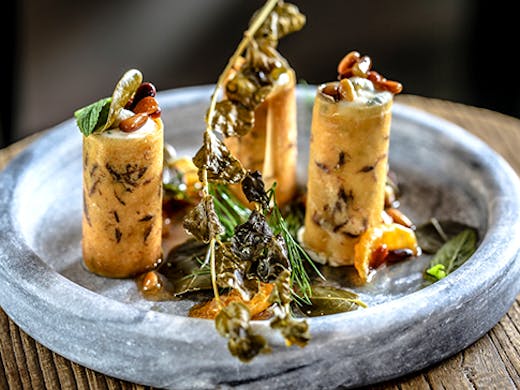 The verdict
Marrickville's answer to modern Mediterranean deliciousness, Bazaari is owned by chef Darryl Martin (former chef of many excellent places; Quay, Foveaux, and 3 Weeds for starters) and Andrew Jordanou. These two have opened a family-style restaurant but with an edgy feel and the same could be said for the food, where contemporary spins on old classics are king.
Each dish is made from fresh produce and spices sourced straight from Cyprus, Andrew's hometown (so you know it's legit) and we've obviously got our eye on everything from the bites, to small plates, big plates and sweets. Think kingfish with preserved lemon, chickpea leaves and beetroot, or sticky pork jowl with loukaniko, smoked eggplant and BBQ cos. Vegos will also be pleased to hear that there's an entire vegetarian menu, so you can say hell no to a garden salad.
Because Barzaari gets us, they've also got a well-stocked bar with many the Cyprian wine plus cocktails like the mastic sour, which combines gin, mastic (uh), thyme, passionfruit, citrus and whites. We'll take two.
Image credit: Barzaari
---