Beckett's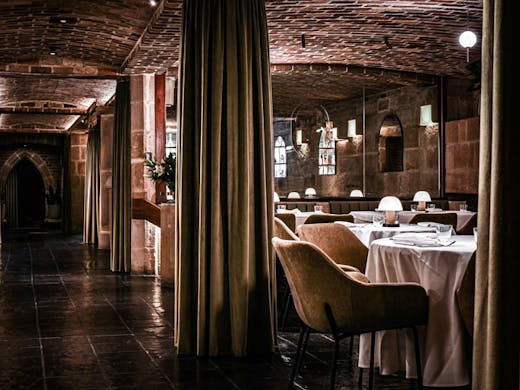 Dreamt up by Jeff Schroeter (Bistro Moncur, Bayswater Brasserie) and playwright-director Wendy Beckett, Beckett's has been built into the spot that once housed Sydney's farm-to-table pioneer, Darling Mills.
Hidden behind cast-iron gates, the semi-subterranean sandstone venue is already a little theatrical—though Beckett enlisted her own set designer to breathe extra charm into the space with lamplit tables, green leather banquettes, plush cocktail chairs, a velvet-lined colonnade, and a baby grand piano (which will be played nightly).
"It's somewhere beautiful to dine and a reminder of Glebe's former glamour," says Beckett. "She's a place to get a little dressed up for. A place of dining and drinking, where people talk to the sound of a tinkling piano."
As for what's to eat, fans of Schroeter's legendary Queensland-caught vanilla lobster will be happy to learn it's set to star on the menu at Beckett's. Elsewhere on the seasonal lineup, you'll find things like porcini and spinach arancini, Never Never gin and beetroot cured Mt Cook salmon with Yarra Valley salmon pearls, Merimbula appellation oysters, Glacier 51 toothfish cheeks, and charcoal roasted wagyu rump with pommes dauphinoise. For dessert, you need to try the coffee cream Brûlée with caramelised fresh fig.
As well as the lobster come-back, Schroeter has dug up another iconic Sydney dish: Thievery's burnt butter hummus. The legendary Glebe restaurant may have closed, but Schroeter couldn't let that hummus go, listing it on his menu at Beckett's as "Thievery Stolen Hummus".
Cocktails have been pieced together by Charlie Ainsbury (This Must Be The Place, Proof & Company). Sip your way through the Beckett's martini, a boozy symphony of Widges gin and Mancino Secco, or the "Flames of Love" martini, made with Never Never Triple Juniper, fino sherry, and bergamot.
Wines are the work of Sasha Siljanovic (NOMAD, Spice Temple, St Isidore), and a 2019 Jean-Paul Thevenet Morgon Beaujolais, Lino Ramble Blind Mans Bluff Bastardo, and Lake's Folly 2019 Chardonnay are just a few standouts on the list.
Image credit: David Li
---
You May Also Like
Restaurants
Haymarket, NSW
While underneath Central Station mightn't be the first place your mind goes to…
Restaurants
Haymarket , NSW
Sydney's era of new hotels has brought with it a collection of very excellent…