Blu Bar on 36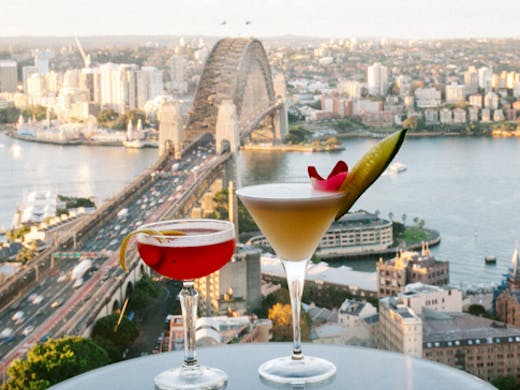 The Verdict
Recognised (and rightly so) as one of Sydney's best bars, drinkers flock to Blu Bar on 36 for their famed selection of delicious cocktails, tempting nibbles and uninterrupted views.
Located within the glorious Shangri-La Hotel, Sydney, Blu Bar on 36 boasts glistening views across Sydney Harbour and all the way across the water. We suggest you settle in for the night and let the mixologists whip you up something special. You can opt for one of the creative cocktails from the impressive menu (their Martini On The Rock is a game-changer complete with a diamond ring swimming among the gin and vodka goodness), or chat to the bartender and see what they can shake up for you.
If you're into the classics, the vanilla espresso martini is an excellent way to transition from day to night and Blu Bar on 36's take on the old fashioned is one to add to your cocktail bucket list.
You also won't need to travel too far (or at all) to fill your belly if you're hungry. Perhaps try some oysters to enjoy with your champagne, or work your way through a ploughman's board while you sample the cocktails. Of course, there are plenty of local and international beers and wine too if that's more your style.
Sitting 36 levels above The Rocks, you'll be treated to one of the best views from a bar in Sydney, showing you just how incredible this city of ours is. Let's just say it's worth conquering your fear of heights.
And because the crew from Blu Bar can't stop at just being one of the best bars in Sydney, they're now offering an incredible high tea experience designed by none other than celebrity pastry chef Anna Polyviou. The show-stopping high tea buffet includes free-flowing cocktails, and did we mention the view? There are two sittings every Friday, Saturday and Sunday (11:30am to 1:30pm and 1:45pm to 3:45pm) and tickets range between $75 and $95. Hand over an extra $15 to score a champagne upgrade. Call your girlfriends, mum and fellow dessert aficionados, scope out the menu to plan what you'll hit at the buffet first and get there stat!
Image credit: Carla Dibbs, Natalia Horinkova and Nikki To
---