The Bob Hawke Beer & Leisure Centre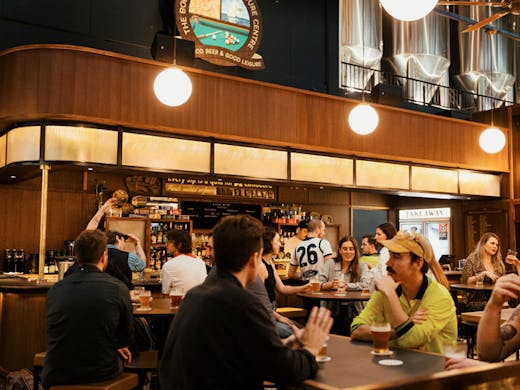 Hawke's Brewing Co. launched back in 2017, a beautiful beer collab between David Gibson, Nathan Lennon, and former Australian Prime Minister, Bob Hawke. But while the beer has soared in popularity since, the brand has never had a brick-and-mortar brewery—that is until now.
Called The Bob Hawke Beer & Leisure Centre, it's a tribute to the beer brand's namesake and all things nostalgic about Aussie beer culture and Australia in the 80s.
Expect Old Parliament House-style wood panelling throughout, an Australian-Chinese bistro called "The Lucky Prawn", and an actual pool room modelled on Bob Hawke's own pool room and stacked with memorabilia and photos of the former PM. Oh, and the largest golden prawn in the Southern Hemisphere, "Shane Prawn".
As for the beers, the full-service bar features 10 taps, showcasing Hawke's core range beers—like the iconic Hawke's lager, the "Patio Pale", and the "Underdog" session lager. There'll also be a special tap on rotation reserved for "One Hit Wonder" limited release styles.
The menu at The Lucky Prawn has been designed alongside Nic Wong (ex-Cho Cho San), and features 80s faves like prawn toast, Sang Choi Bao, honey king prawns, and sizzling beef and black bean stir fry. There's even a deep-fried Viennetta cake worthy of a visit in and of itself.
The brewery is also planet-friendly too, powered by a 100kW rooftop solar farm. It also uses a high tech carbon capture system, which uses CO2 from the beer's fermentation process to grow plants and vegetables for use in the kitchen. How good!
The Bob Hawke Beer & Leisure Centre will open on Thursday 31 March.
Image credit: James Adams
---