Bonditony's Burger Joint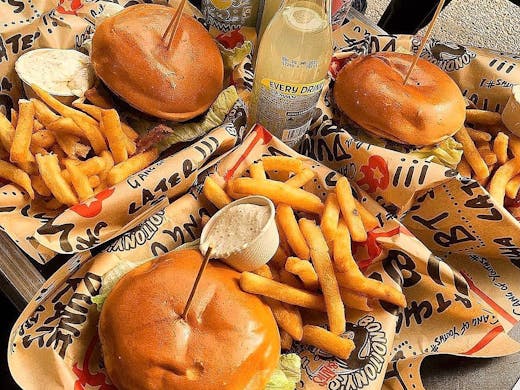 The verdict
If you haven't been to Bonditony's, get out from that rock you've been under and drive yourself down to Bondi Beach. The family-owned burger joint has adopted a rock and roll theme, paying homage to the owner's former life in the music biz. Expect to hear plenty of the 70s, 80s and 90s hits as you down a bevvy alongside your meal, and don't be afraid to let loose as you embrace the good tunes and even better vibes.
A Bondi local for over 25 years, the owner of the venue certainly knows his way around the area, boasting access to some of NSW's best farm-fresh produce. What that means for you is seasonal ingredients of only the highest calibre to further enhance your meal.
So what exactly is on the menu? Burgers, and lots of them. Chicken burgers, beef burgers, plant-based burgers—you name it, they serve it. But the best part is, their meat-free alternatives actually taste like the real thing, rather than the dry cardboard flavour we've all become so accustomed to. Whichever patty you choose, pair your meal with a side of fries, onion rings, and plenty of dipping sauce for an extra bit of zing.
Once you've got your meal, head out back to score a seat in the afternoon sun, and shine a light on the benefits of ethical eating, while making the most of a drool-worthy meal.
---