Botswana Butchery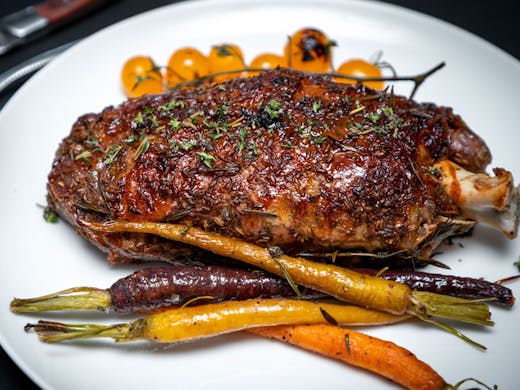 The freshest addition to Sydney's steak scene and the crowning jewel of Martin Place's insane $170 million transformation is Botswana Butchery.
The sprawling 300-seat restaurant is an import from New Zealand and Good Group hospitality—one of the leading hospo groups from across the ditch. Complete with a rooftop space for 350, plush interiors, an enormous menu, and a relaxed indoor-outdoor atmosphere—this spot is set to be a bit of a game-changer in the Sydney CBD.
Botswana Butchery's signature dish is a lamb shoulder so perfectly tender it is actually served with a spoon. The restaurant is home to an impressive range of Australian steak and lamb cuts from a Black Opal Wagyu sirloin to Rangers Valley Tomahawk MB3, and a lamb rack too. There's even a "Little Black Book" of specialty cuts to peruse that changes regularly.
If you're bringing friends who aren't super excited about fancy steak cuts, Botswana Butchery also has an extensive seafood menu, with market fish, Big Glory Bay king salmon fillet, and yellowfin tuna all on the "From the Ocean Menu", and the option to add prawns and scallops to any dish too.
Pair that with a wine list of over 1,000 wines, focussing on Australian and New Zealand varietals, and one of the most delightful katsu Wagyu sandos we've ever tried—and you've got yourself a very delicious night out.
Keen to visit Botswana Butchery in the future? Purchase a gift voucher here.
Image credit: Botswana Butchery
---