Bowery Lane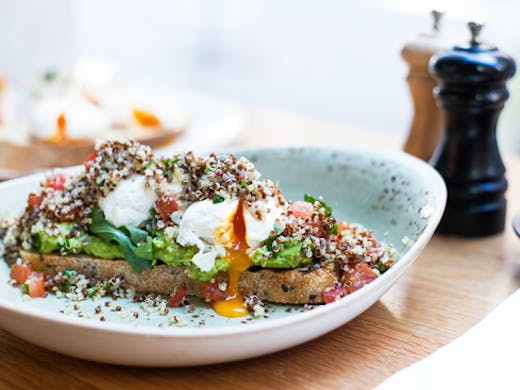 The verdict
Offering a chic, industrial fit out that perfectly transitions from early morning coffee to corporate lunch and romantic dinner, Bowery Lane offer fresh produce, delicious cocktails and a great atmosphere all day long.
Sounds pretty simple, right? Don't be fooled by its CBD location, Bowery Lane means business when it comes to delicious food and cocktails from morning through to evening.
Breakfast can be as simple as a coffee and the house granola with vanilla yoghurt with fresh seasonal berries, or as decadent as the buttermilk hotcakes with seasonal berries, marscapone and maple syrup. If you're more into the savoury persuasion, go for their smashed avocado: it's the classic with a twist of persian feta, rocket, poached eggs, tomato and a sprinkling of quinoa because they can. It's messy and you might feel guilty for ruining the beautiful plating, but it's worth it for one of the best breakfasts in Sydney's CBD.
Is it time for a more substantial meal? Look no further! There are quick meals, some show-stoppers and some seriously sinful options. And obviously you should take one of each. The double cheeseburger with special sauce (oh yeah!) and fries is nothing short of incredibly graphic food porn, and worth the mess you'll make on your shirt.
For the sharesies, the slow cooked lamb shoulder with smoked eggplant, lemon garlic dressing and watercress will keep the entire table happy... Or just you if you're feeling like a challenge.
Of course, there are more cocktails than you can poke a swizzler at. The watermelon and basil martini is the refreshing tipple you need with your evening at Bowery Lane.
Naturally, you'll want to hear all about the nightly specials at Bowery Lane. There's something for everyone.
Image credit: Federica Portentoso
---
You May Also Like
Restaurants
Sydney, NSW
Joining the brotherhood of Pellegrino 2000 and Bistrot 916, Clam Bar…