Butter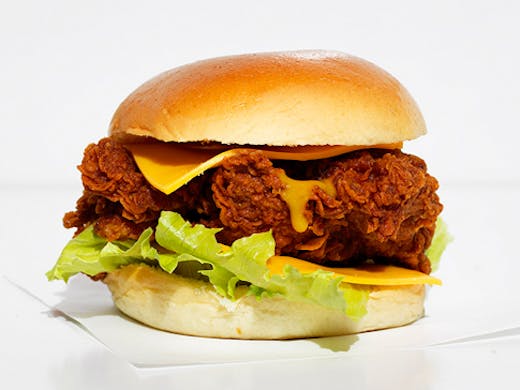 The verdict
Stop everything, team! Your favourite fried chicken joint is heading over the bridge and dear-sweet-baby-cheezus this is good freaking news. If you're a Parra local, listen up, because Parra just got good, and by that we mean you now have the crazy good fried chicken sandwiches Surry Hills does. What a time to be alive.
Along with their usual offering of shoeboxes filled to the brim with fried chicken deliciousness, they're also bringing some super special, well, specials with them. We'd like to introduce you to the Butter 3000. This bad boy involves a crispy thigh fillet of chicken, smoked pastrami (we know, extra AF), pickled daikon and kabayaki sauce all on a soft milk bun. Oh yeah team, you can absolutely expect the same American goods with Asian influences like dashi butter and miso.
For those of you playing at home, Butter is about more than just fried chicken—they also sell sneakers and champagne. And of course they're bringing all that goodness to the west too, because you're worth it and we all know it. They've also decided to next level the whole lot with a full-blown retail store that'll take up the entire top floor. Expect brands like Wood Wood, Daily Paper and Carrots by Anwar.
If you need some more fried chicken in your life (of course you do), then you'll want to head here ASAP. Oh, and this is peak drunk/hungover food even for vegans who want to wrap their laughing gear around their ridonculous tofu nuggets, just sayin'.
Image credit: Butter
---