Carbòn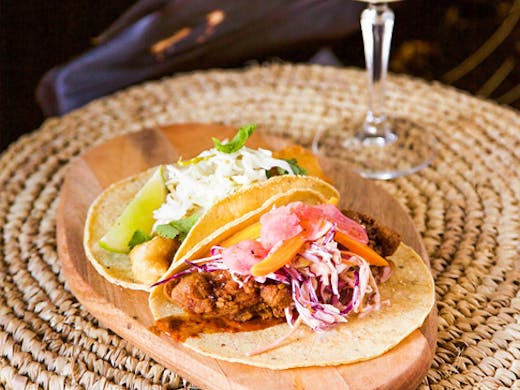 The Verdict
Sydney just copped a brand new authentic Mexican restaurant and here, it's all about wood-fired cooking just like the traditional Latin Americans did it way back when.
The team at Carbòn use 'parrilla' techniques to cook errything which means they basically use a variety of woods to create different flavours within the food. Think charcoal-sealed tuna sashimi, smoky lamb shoulder, charred squid and all the rest, Sounds pretty darn tasty if you ask us.
Their signature is the make your own tacos (M.Y.O.T. for anyone wondering), where you can pick from things like suckling pig and chipotle citrus yoghurt and (almost) everything in between. To match their uber delicious eats, the bar isn't skimping on quality either, using top notch tequila and mezcal in their bevs. Take the Bondi sunset for example—loaded with mezcal, elderflower liquor, zesty lime juice and mandarin, it's basically summer in a glass.
Carbòn is the work of the team behind Taquiza, so all the great Mexican vibes we know and love from their first outpost will be brought over to this one by the truckload. You and your BFFs will feel like you're sitting under a cabana in the Caribbean, sipping on tequila and chowing down on some amazing fish tacos, except you'll never leave Bondi
Image credit: Supplied
---
You May Also Like
Restaurants
Bondi, NSW
It's hard to go wrong with the original Totti's in Bondi, and there…
Restaurants
Bondi Beach, NSW
Bondi's now home to a little slice of France, with Chouchou serving an…