Casoni.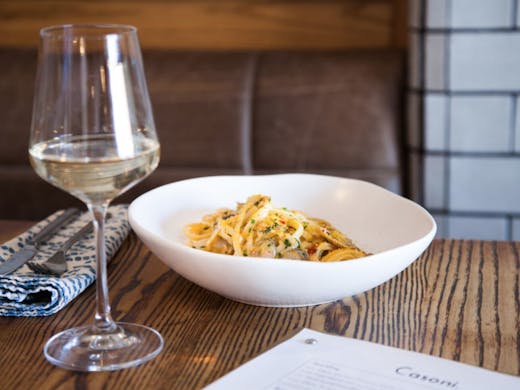 The verdict
Darlinghurst is heaving with top-notch eateries, but hidden behind a red door just off Oxford Street is one of our favourite Italian restaurants, Casoni and trust us — it's definitely worth a look in when you're deciding where to head for dinner.
We'll start with the booze, for obvious reasons. Casoni prides itself on providing locals with quality Italian fare, but we'll admit the fact that they serve Aperol spritz on tap (as well as craft beer) would have drawn us in, regardless of the food. Luckily, here you don't have to choose — they're both fab. The wine list has varieties from around the world and the friendly staff will happily guide you through the chalkboard wines as well.
This is how your dinner at Casoni will go down. Settle in to the alfresco dining space, or cosy restaurant, before promptly ordering the baby cos with oyster emulsion and parmesan. It's one of the best starters we've tried all year (and we don't say that lightly). Then order the burrata — because burrata.
For mains, the pumpkin ravioli with pistachios, burnt butter and sage is the hearty plate of pasta you've no doubt been dreaming of, but if you're in the mood for something lighter, then we recommend you opt for the market fish with whipped bottarga and polenta chips.
If you're the type of person who struggles with huge life decisions (ravioli or pappardelle, that is the question), then we get you and so does Casoni Their menu fisso is affordable ($55) and features all of our favourite dishes, which also happen to be the Casoni signatures. We definitely recommend that you ask about the weekly specials before you dive in to this one, but really, you can't go wrong here.
Perfect for a date or for a catch up with friends (or even just a few after work drinks – they have an excellent happy hour), Casoni is one Italian restaurant in Sydney that you'll want to add to your hit list. Just so you're in the know, Casoni is also open for ladies lunches on Saturday. Did someone say $9 Aperol Spritz? Oh yes we did my friends, and that's exactly what you'll get when you head there for the ladies lunch.
Image credit: Federica Portentoso
---