Chin Chin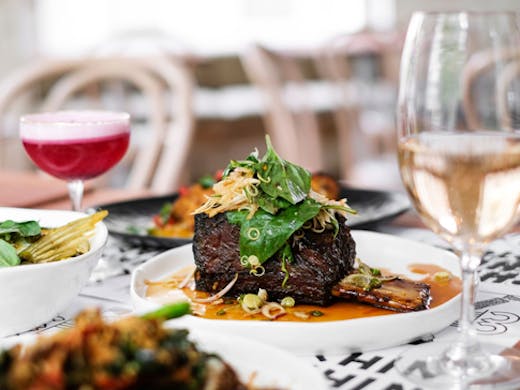 The Verdict
Chin Chin has built an army of ultra-foodies who have hospitality running through their veins. Expect an all-star line-up you're guaranteed to fan all over; the Sydney crew boasts talent from Quay, Black by Ezard and Bistro Guillaume, with Craig Hemmings (who has been the GM of Guillaume at Bennelong for the last decade), bringing his knowledge to Chin Chin Sydney.
And yeah, they'll be here to feed you tasty south-eastern fare because it's about time we had Chin Chin's chilli salt chicken wings on Sydney turf (and in our bellies).
On the food front, you can expect Chin Chin faves and new kids (equally delicious). Think twice-cooked beef short rib with shaved coconut salad and prik nahm pla, rotisserie pork belly with fennel plum pickle and scud chilli death sauce and for the vegos—rendang-spiced mushrooms and toasted coconut.
But Chin Chin isn't only about the food (although they obviously do that damn well), with its very own cocktail bar, GoGo onsite. Open 'til late, they're serving up everything from cocktails involving chipotle and watermelon jam to local craft brews and wines from the all-girl gang of Sommeliers.
And because they know you're a hungry bunch (even on public holidays) they're open all Easter long weekend, from 12pm each day and yes, you can even book a table of any size, at any time. This is very good news for anyone who's waited hours for a table at this absolute winner. They'll be serving up their classic feed me menu ($69.50pp) plus a special seafood feed me menu for $88pp.
Image credit: Chin Chin
---
You May Also Like
Bars & Pubs
Darlinghurst, NSW
An ode to the foundational ingredient of some of Japan's most loved exports…
Restaurants
Darlinghurst, NSW
Joining Sydney's collection of Japanese venues offering an omakase, Moku serves…