Chula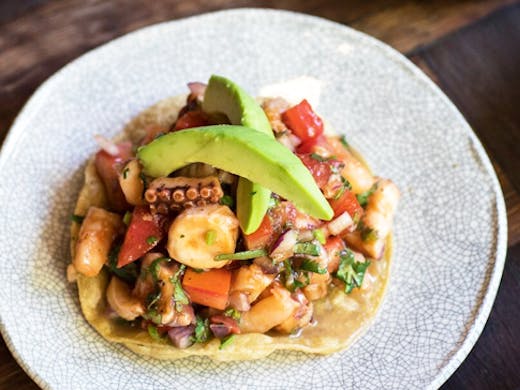 The verdict
The old Hugo's Pizza site has had a facelift and if you're a lover of Mexican food, this one's for you. Chula isn't just any old Mexican joint, but instead, it's taking a more refined take on the casual street food classics. Sitting on Bayswater Road in Kings Cross, this one is going to be damn good.
It's by the same team who brought us Barrio Cellar, making Chula the big sister to the CBD tequileria and eatery. The name is slang for 'beautiful' and 'hot', a nod to the fit out and fiery AF food. The space is inspired by the rich colours of Acapulco and Tulum, with over-stacked vintage cabinets and collected timber with organic hand-woven pendants and linen fabrics throughout.
The menu is more than the Mexico taco fillings we're all used to, with of fresh dishes that have a strong focus on vegetables and seafood. Our top pick is the traditional Oaxacan dish, involving a toasted tortilla base with black bean puree and charcoal meat. We'll think of this one as a tribute to both the traditional regional cuisine and the pizza shop that used to call this space home.
And as for the bar, it's stocked with a mezcal and tequila-heavy cocktail list that revolves around seasonal fruit and indigenous Mexican ingredients. Can you really go wrong? Nope.
Image credit: Chula
---