Coffee Supreme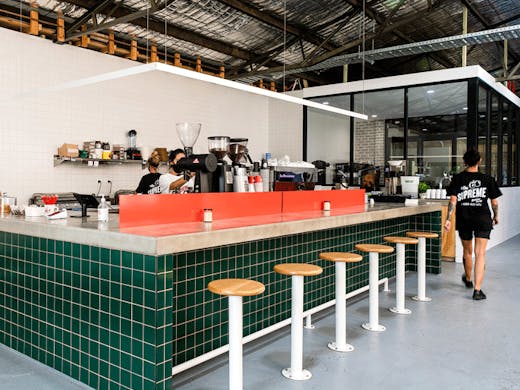 Caffeine fiends on the Northern Beaches haven't had the best options in past. But now the Beaches is home to some top-notch coffee spots, including uber-cool roastery Coffee Supreme.
The New Zealand-founded coffee company has grown a lot since its inception in the 90s, with locations in NZ, Australia, and even one in Tokyo. What sets it apart from all the other java giants? It's known for its ethical and sustainable practices—from sourcing the beans right down to its eco-packaging. Plus, it tastes damn good.
You'll find its Sydney cafe and roastery in a former Brookvale warehouse, concealed behind a leafy facade and bright red roller doors. The space has plenty of natural light (with the rollers up, of course) and has a fit-out that feels much like cafes found along the US West Coast.
As you'd imagine, the coffee menu is extensive, with espresso, batch, cold brew, seasonal blends, and rotating single origins all on the cards. And, if you're peckish, you can tuck into the likes of bagels and avo on toast for brekkie, plus burgers, sangas, and a drool-worthy bolognese toastie come lunchtime.
You can also pick up beans for at-home brewing, as well as Supreme merch like mugs, hats, and socks, thanks to the cafe's retail offering.
Image credit: Jessica Nash
---