The Collaroy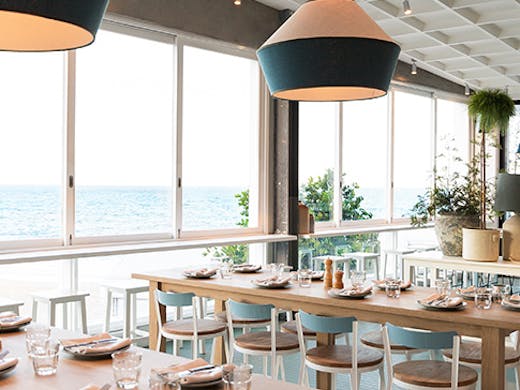 The verdict
You might be sick of us saying this but, Merivale has bloody done it again. This time, they've taken over The Collaroy and you better believe they've given this beachfront locale their signature spin (meaning it's freaking beautiful, delicious and yes, there will be wine).
The ground floor is where a lot of the action is happening, with a health-driven menu served at the kiosk all day long. For breakfast, it's all about coffee, breakfast pizzas (yes) and pastries. Meanwhile, lunchtime will see you feasting on bowls filled with everything from coconut yoghurt, seasonal fruit and muesli or toasted farro with avo, boiled egg, halloumi and lemon. Come night, the ground floor (did we mention it's literally sitting on the sand?) serves up home-style dinners like lamb and eggplant moussaka, and a coastal take on the classic Sunday roast.
Once you're done with the beach for the day, we recommend you head upstairs because here, you have options. With two bars and an open kitchen, there'll be local seafood, freshly shucked oysters, meats straight from the charcoal grill and salads galore. Throw in a crisp glass of rosé and a pizza from Vinnie's and you've got yourself a pretty sweet night out.
Image credit: Supplied
---