Collectionist Hotel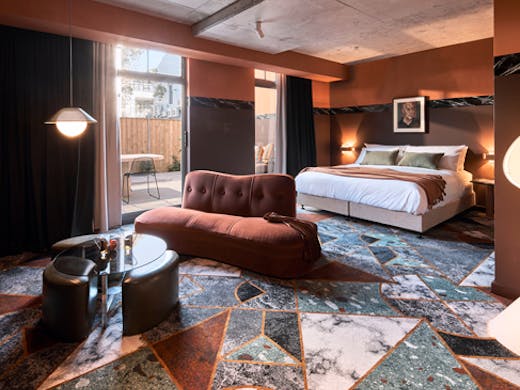 The Verdict
This up-and-coming boutique hotel is definitely different. Located in Sydney's inner-city Camperdown precinct, this one has been described as a real-life 'choose-your-own-adventure'. Basically, The Collectionist commissioned several designers from leading design studios to create 39 individually designed rooms. Read that as, no room is the same so they're pretty much all their own piece of art. And everybody wants to stay in a piece of artwork.
Here, room allocation is old-school. Instead, you'll get to check-in (digitally… because the future is now), peruse the goods and choose a room based on the style, colour, texture and design. Each room has its own story with room names championing respective themes.
To give you an idea, the 'Kyoko' room has been pulled together with all natural materials, a neutral colour palette and classic Noguchi paper lanterns for all the soft and contemporary Japanese vibes. The 'Oceanic' room has been inspired by the life of a born and bread fisherman and surfer so the underwater feels are only too real in this one. As for the 'Cloud Runner' room, it's an epic space where neon fiction meets a rolling cloud mural and yes, it's as insane as it sounds.
This swanky hotel is definitely the perfect place for a staycation, bordering Newtown and Glebe, just two of Sydney's bustling and colourful suburbs. The Enmore Theatre is a short walk away and the city is a simple bus ride down the road. Not to mention, you're right in the midst of some of the best eats around.
Image credit: The Collectionist
---
You May Also Like
Travel
Sydney, NSW
When it comes to choosing a hotel in the Sydney CBD, you really are spoilt for…