Coogee Bay Hotel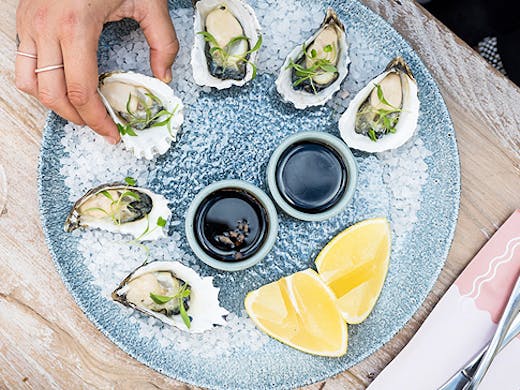 The Verdict
Coogee Bay Hotel is a Sydney institution. Taking up pride of place smack bang in the middle of Coogee Beach, this super laid back spot screams summer and was made for lazy days in the sunshine (no matter what time of year).
Whether you're stopping by for breakfast after a dip at the beach, having a long lunch with your whole squad, or grabbing a quick midweek drink, you're in good hands. With a delicious Brasserie, lush Garden Bar, their oh-so-popular Sports Bar, not to mention everyone's favourite Beach Bar, there's something for everyone.
The breakfast menu boasts all your faves, from slow baked muesli to cured salmon, and banana bread French toast as your cheat meal (go on, you deserve it), served with cream, caramelised banana and hazelnut praline (droooool).
If you're up for that long lunch we mentioned earlier, we suggest you go sharesies. From a bucket of fresh Crystal Bay Prawns and one delicious kilo of Hot Wings with Frank's Red Hot Sauce and blue cheese mayo to delicious hearty salads and simple but tasty pizzas, we suggest you do your belly a favour and order one of everything. We repeat, order one of everything.
Come dinner, you can't go past the burger menu (the crumbed barra burger with harissa tartare and fries is seriously something) and there's nothing on the grill menu we wouldn't try, twice. The O'Connor ribeye is our fave but the Rangers Valley rump is just as juicy.
With a killer cocktail menu (we're talking espresso martinis, jugs of Pimms and a whole lot of sangria) combined with ocean views, Coogee Bay Hotel is exactly the kind of place you seat yourself down and never want to leave.
Coogee Bay Hotel is celebrating Mother's Day in style, offering up a two-course lunch with a glass of complimentary bubbles (obvs) for only $40 per person, as well as fancy AF high tea buffet (which includes a free massage!) for only 49 bucks. You know you want to...
Image credit: Claudia Schuemli
---