Coogee Pavilion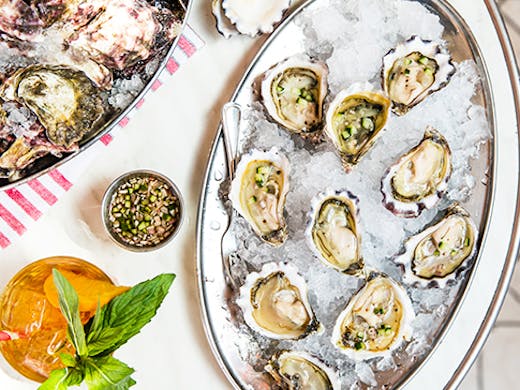 The verdict
Anyone who lives in Sydney, or at the very least in the east, already knows Coogee Pavilion is a god damn institution around those parts. Here, the entire family is well catered for, whether you decide to bring the entire crew and kick it in downstairs with all of the pizza or prefer to head to the rooftop for an afternoon in the sunshine.
This is the place that's always cranking on a Sunday and they regularly play host to epic bands, DJs, and is just never short of the good vibes.
And for the month of March (and a little bit of April too) Coogee Rooftop's Glasshouse will be transformed into the Pimm's Oyster House, a London-style oyster bar serving up classic serves of Pimm's and (you guessed it) all the freshly shucked Sydney rock oysters you can handle. We're talking about half dozen ($21) and full dozen ($42) plates with a cup ($10) or, let's be real, a jug ($30) of Pimm's on the side.
To paint you a little picture, the cocktails look a little something like this. There's the oyster house club which involves Pimm's, Tanqueray, Antica Formula, Absinthe and lemon zest (might just blow your pretty little head off) and the Pimm's pony which is a more chill combination or Pimm's (duh), lemon, orange bitters and pale ale. There are more fruity options too but you'll have to head down to see them. There'll also be much vintage Pimm's paraphernalia decorating the space and we know you don't need to know any more than that.
Pimm's Oyster House is opening this Friday 9 March and it'll be open 12pm - 10pm, Friday to Sunday until 3 April.
Image credit: Nikki To
---