COYA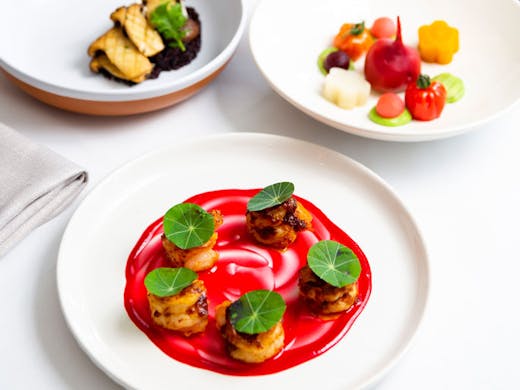 COYA is one of Sydney's great hidden gems. Tucked away in the most unlikely of spots—among a quiet string of suburban shops in Cromer on the Northern Beaches—this unassuming spot is where you'll find one of the city's best degustations.
COYA is the brainchild of executive chef Ashraf Saleh, who has worked throughout the world refining his craft across the 70s and 80s at five-star establishments in Paris, London, and Sweden, as well as releasing a recipe book titled COYA in 2019.
Saleh follows a seasonal, produce-forward approach, fusing French, Middle Eastern, and Modern Australian ideas to create dishes that are stacked with flavour, artistry, and colour too. Not kidding, each dish at COYA is a literal rainbow for the senses.
Forget food envy and choice paralysis, at COYA you're in for a degustation and set menu experience, though there are a few degustation options to choose from. Saleh updates his menu roughly every six to eight weeks, showcasing produce sourced from local farmers and suppliers in the Narrabeen and North Sydney region, but each time you'll find a "Carnivore" and "Herbivore" or vegetarian menu, as well as vegan and gluten-free substitute menus. Choose from four-course menus, or go all-in with the more decadent six and nine-course feasts.
While the menus at COYA do change up regularly, one constant is Saleh's knock-out king prawns with sumac, chilli jam, and raspberry emulsion—a rich, flavour popping, fuschia pink dish that is as pretty as it is tasty.
Degustations at COYA range from $55 per person (four courses), to $135 per person (13 courses), making this one of Sydney's better value-for-money degustations too.
Image credit: COYA
---