Cuckoo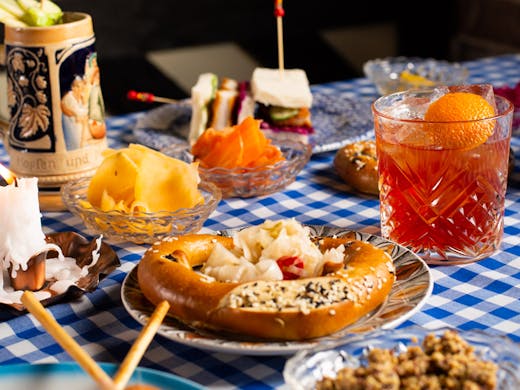 Just in time for Octoberfest comes a brand-new upstairs bar with a very German spin on things.
Cuckoo has taken over the top floor of The Marly in Newtown, with a fresh fit-out inspired by Germany's underground youth scenes. Created by Solotel in collaboration with the International World Wide crew (who are responsible for the creative direction of venues like Holey Moley, Club 77, The Norfolk and The Oxford Tavern), Cuckoo is a little bit wild, weird and wacky. You can expect everything from schnitzel through to pimped out pretzels, bee sting cake schnapps, strudel, a rock-climbing wall and glow in the dark ping pong.
As well as its mock-Tudor walls and alpine fresco windows, Cuckoo is plating up a menu "inspired by party food and the wonders of the fairground, with a smattering of nostalgia with a Germanic twist," Solotel's Tara Sullivan explains.
"The classic Pluto Pup is wheeled out as a Smoked Kransky sausage, battered, served on a stick with tasty currywurst. The strudel has been reimagined, with cabbage and bacon rolled in brick pastry and presented as a spring roll."
You're also in for a full range of schnitties and fluffy pretzels with—wait for it—an entire Condiment Kingdom to dress your plate in pretty much any sauce and flavour imaginable.
To drink, you'll get a solid range of German-inspired local beers as well as brew collabs with local heroes like Batch Brewing Co, Young Henrys and Waywards. Housemade schnapps has been infused with things like peppermint and raspberry. The bee sting schnapps takes its inspo from the German bee sting cake, and heroes things like almond, vanilla and local honey.
The "Deer's Blood" cocktail alludes to the supposed secret ingredient of Jägermeister (but doesn't actually feature deer's blood—it's modelled off the Negroni and is a mix of Bombay Sapphire, Jäger, Campari and dandelion rooftop-honey vermouth).
Friday and Saturday nights will feature DJs and live music, but if dancing's not for you—grab a paddle and get stuck into a little glow in the dark ping pong.
Cuckoo is due to open Friday 18 October.
Image credit: Rocket Weijers
---