Dead Ringer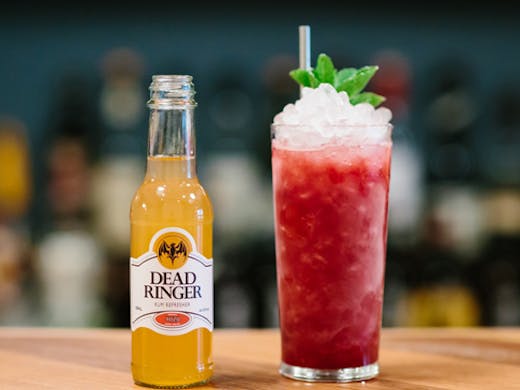 The Verdict
When the guys behind Bulletin Place open up a a bar, you know it's going to be good. Their Surry Hills cocktail bar Dead Ringer is a local favourite and it's for more than just the drinks. Their cocktail menu is eclectic and full of standouts like the yuzu breezer (rum, yuzu and grapefruit) and the pineapple adonis (fino, rosso, pineapple skin). For those who like a little pick-me-up there's the obligatory (tequila, cold drip coffee and maple) and for a bit of fun there's the red dinger (redskin gin, blood orange and vinegar).
But Dead Ringer is not just a cocktail bar, the focus is on drinks and food that mesh together and the menu focusses around seasonal dishes and sharing plates. For smaller nibbles and sharing there's the cheese plate with lavosh and mountain lagoon honey or the pork jowl terrine with rye crumb and mustard seed, whereas the barramundi with romesco, mussels and onions is perfect for a sit down dinner. To top it all off in the best way, order yourself a hot and cold buttered toddy – think of it as the affogato's trendy sister. With a helping hand from the Messina gods and their burnt butter and sage gelato, scotch and Muscat it's the perfect dessert/nightcap combo.
They take bookings, so get ahead of the crowd and book you and your crew in.
Image credit: Daryl Kong
---