Devon at Barangaroo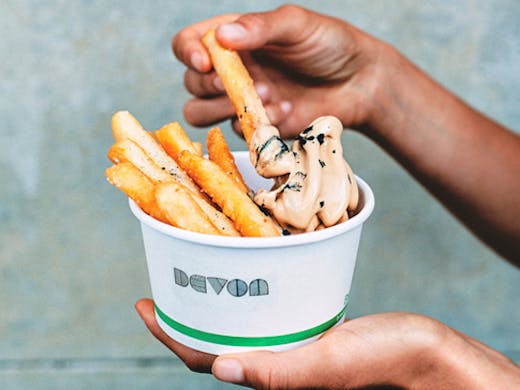 The verdict
Joining the increasingly impressive line up of vendors in Barangaroo, Devon on Danks is sitting pretty in Sydney's newest foodie hub. You'll be happy to know that their cronuts and Persian fairy floss are most certainly happening here and we are confident that you'll love this one sick.
On the pans is Morris Baco (of Danks) and along with Zachary Tan (of Devon and Lucky Suzie), with a menu featuring dishes like breakfast with the Sakuma's, which features miso grilled king salmon, with a smoked eel croquette, 63degrees egg, radish petit salad and kewpie mayo as well as more low key options like the soft serve with hot chips and many other truffle laden dishes.
For a quick lunch on the go, local business men and women will be pleased to know that a brand new range of Japanese katsu-style sandwiches appears on the menu here.
---