Doom Juice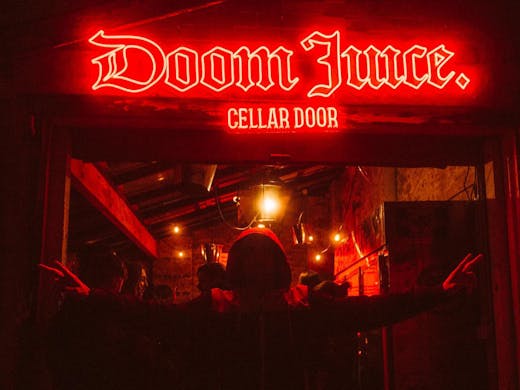 If you thought the Inner West was getting a bit ho-hum, think again. Doom Juice has landed on the scene, opening the first cellar door in the Inner West.
Don't think Hunter Valley vineyards with this one—think Inner West roller door, bathed in red neon light, pouring Doom Juice's signature natural and organic vino in a rock n roll backyard setting that feels more like your mate's place than a swish spot to swirl and sniff varietals of overthought grape juice (no spittoons here, folks).
If you're not familiar, Doom Juice was dreamt up by Sebastian Keys and Zachary Godbolt in a bout of pandemic-induced creativity and genius. Since then, the collection of natural wines has earned cult status. There's a Rosé, a Gewürztraminer, and a "Rouge" in the Doom Juice range, and each bottle is designed to be friendly, smashable, and fun.
At the cellar door, which is open Friday through Sunday for all the weekend vibes, you can expect to find artist residencies, DJs, and, on Sundays, a lineup of Sydney's most exciting chefs cooking up snacks to go along with your nattie wine.
Doom Juice buddied up with St Lawrence Bistro to host a Sunday pop-up kitchen at the cellar door, and it's here that you'll find talented chefs like Jack Fitzhenry (Bastardo), Toby Stansfield (Old Fitzroy), Marcelo Munoz (Continental Deli CBD), Wesley-Cooper Jones (P&V), Sammy Rozsnyoi (Cafe Paci), Luka Coyne (Fish Shop), Ed Saxton (Sagra), and Anna Ugarte-Carral (10 Hats). Just casually!
A perfect Sunday arvo in the Inner West? Absolutely.
Image credit: Angus Bell Young
---