Eden Farm Escape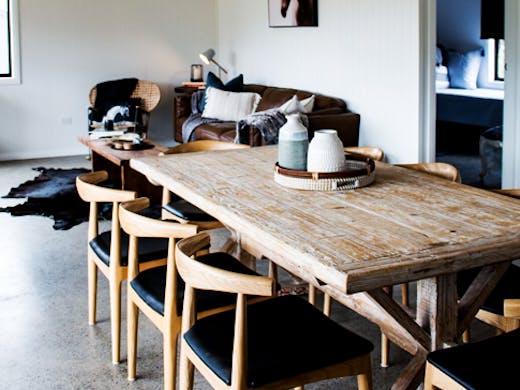 The Verdict
Just a short drive from central Sydney is a mountainside escape like no other, surrounded by acres of land and farm animals. If you're in the mood for a romantic getaway or just a break from the hustle and bustle of the big smoke, then you'll want to book this place pronto.
Overlooking the Blue Mountains, the Eden Farm Escape houses horses, pigs, goats, alpacas, miniature donkeys and so many more. Basically, you'll get the chance to feed a menagerie of little animals and totally disconnect for a short time. Plus, this place is dog-friendly, so we're absolutely cheering for that.
From the creative powerhouse team behind The Grumpy Baker, Michael Cthurmer and Deborah Goodman have been transforming this space into a haven for retreating and shutting yourself out from the distractions of the city. Guests can experience a little equine therapy too with horse riding on offer.
Offering five self-contained cabins, each with a kitchen, Foxtel, Nespresso (because you know we can't live without our caffeine-fix) and a fully-functioning fireplace. Of course, you won't be spending much time indoors, because just to the right of the property is a waterhole, perfect for a dip. And if you'd rather experience the great outdoors, there are many trails and bushwalks lined up around the picturesque property.
Image credit: Supplied
---