Edition Roasters Darling Square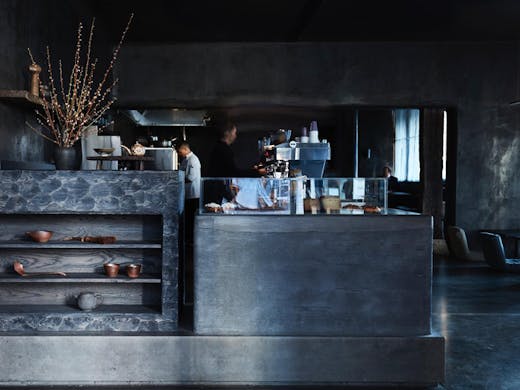 What looked like just another sunlit Darlinghurst corner cafe, quickly became something of a hallmark for Sydney's new era of cafes. With a Scandi-Japanese fusion breakfast menu, heads definitely turned.
Nowadays, the Darlinghurst outpost is closed and Edition Cafe has settled at Haymarket's Darling Square dining precinct.
The sleek charcoal-black interior at Darling Square, designed by Sydney-based YSG architects, is inspired by an old Japanese farmhouse. Pop in for Nordic open sandwiches (smorrebrod) alongside bento boxes, katsu burgers, and jiggly soufflé pancakes.
As one of Sydney's best specialty roasters, coffee is second-to-none here. Edition uses the best brewing techniques, including batch brew, pour-over, aero-press, Japanese drip, and cold brew.
But top-quality coffee and quick lunch fixes aren't the only things on the menu at Edition Darling Square. Once the sun goes down, Edition transforms from bustling cafe to moody izakaya.
Fittingly named Edition Izakaya, the cafe's nighttime twin ditches coffee for sake and pancakes for yakitori. On the menu, you'll find classic izakaya dishes like edamame, karaage chicken, kingfish sashimi, and skewered charcoal meats such as chicken thigh and beef. There's also a handful of desserts that tie in Edition's cross-continental fusion, from miso chocolate tiramisu to yuzu Basque cheesecake.
Of course, it wouldn't be an izakaya without some bevs, so expect to sip Asahi, Suntory single malts, and eight different sakes.
Edition Cafe is open from 8am–4pm daily and Editio Izakaya is open from 5.30–11.00pm every Wednesday–Saturday.
Image credit: Edition Roasters
---
You May Also Like
Restaurants
Sydney, NSW
If you love flavour and sharing a spontaneous meal amongst fifteen of your favourite…