Everyday Espresso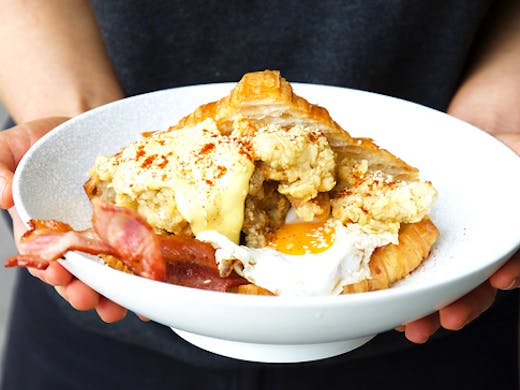 The verdict
Sydney has new cafes joining it's delicious ranks daily, but every so often one will deliver a dish that is so perfect, we can't help but take notice. Guys, we'd like to introduce you to our new friend Everyday Espresso and more specifically, their Coop's Benny. Before we dive too deep into that bad boy (which is a pimped AF croissant, in case you were wondering), we'll tell you a little something about this fresh Redfern gem.
With a concise menu that strikes a balance between naughty and nice, you can expect Insta-worthy Buddha bowls that combine greens, grains and protein (because #health) sitting alongside gooey, cheese-filled toasties. We know. It's the god damn dream.
Now more about that Coop's Benny. This bad boy is (like we said) a super-pimped croissant filled with streaky bacon, buttermilk fried chicken, yuzu hollandaise and a fried egg. It's an eggs Benedict on steroids and you need it in your life and your gob. Wash it all down with a freshly squeezed juice and you'll totally cancel out the indulgence. Trust us—we know things.
Image credit: Everyday Espresso
---