Ezra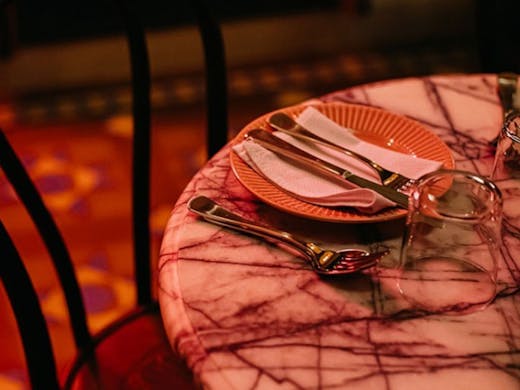 Ezra head chef Ben Sears is a Paper Bird and Moon Park veteran, while owners and husbands Nick and Kirk Bowden bring their experiences in London to bear on the restaurant—so yep, you know you're in good hands here.
Ezra is inspired by the vibrant food, architecture, and nightlife of Tel Aviv. To eat, it's all about hearty Israeli food drawing on broad Mediterranean traditions that are punchy, flavourful, and perfect for sharing. Under the glow of a pink neon sign, tuck into crispy potato latka dripping in sour cream, earthy hummus, or go all out with chickpea-marinated miso swordfish.
You also can't go past Ezra's divine pita and Jerusalem bagels (gluten-free options are available), their fresh hummus topped with an oozing smoked egg, and the simple but totally perfect chicken in vine leaf with smoked garlic toum.
Try it all with Ezra's chef's menu, a sampler of the best of the menu, for just $69 per person. On Saturdays and Sundays, Ezra is open for lunch.
Image credit: Ezra
---