Fabbrica Pasta Shop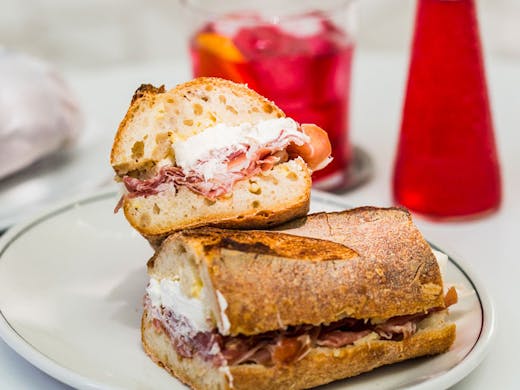 Part deli, part pasta shop, part commercial kitchen, and part den of culinary action and inspiration, Fabbrica is an extension of the pasta we've come to know and love at Ragazzi—and a spot to live and breathe the ritual of pasta making, and then some.
You'll find the subterranean spot on King Street, underneath the super slick Acne Studios boutique. Fabbrica is the genius of Sydney wine experts Matt Swieboda and Nathanial Hatwell, Ragazzi head chef Scott McComas-Williams, and Cameron Birt of Fino Foods. When their restaurants shut during COVID, the group began putting together fresh pasta and sauce pack combinations to sell to delicatessens and butchers.
They saw it as an opportunity for more people across the country to experience their idea of pasta. After being approached by a national distributor to open a commercial kitchen and produce their pasta and sauces en mass, the boys decided they'd rather find a better way to get their product out to the country.
"We decided if this is something we're going to do, we're going to make it fun," says Swieboda. Think of the front of the King Street space as a showroom, and the back as the factory where the product is made—like a brewery and a tasting bar."
And that's the best part because the pasta being made in the back is precisely what's being sent daily to the group's restaurants and served up on a plate. "What we're really offering is an experience that is very comparable to what we're able to offer from our kitchen at Ragazzi," explains Swieboda. "But we're able to offer it in a way that people can do it in their home with enough effort that they should feel they've been an integral part of the creation of that pasta."
When you walk through the front courtyard, past its five small tables, and into a shop that resembles an open commercial kitchen, you'll be greeted by take-home options of fresh pasta sold by the gram, freshly made sauces, charcuterie, cheeses, and an assorted wall of organic Italian wines—each carefully selected by Swieboda, with a good portion coming from minimal-interventionist winemakers. Don't worry if you've got a sensitive stomach, because they're also dedicated to showing the world that gluten-free pasta can be just as delicious.
Fabbrica lets its patrons choose how much effort they want to put into their meal. You can buy carefully created sauces and pasta, simply placing them into boiling water to cook up at home in a few minutes. Or they can give you the recipe cards and instructional videos curated by head chef Scott McComas-Williams, as well as Tipo 00 flour, biodynamic eggs, semolina, etc., to have a go yourself and make pasta like the pros.
If you feel like staying for a chat and a bite you can pop in at any time of the day for different offerings. Before lunch, you'll find the fresh smell of espresso and bomboloni (cream-filled Italian doughnuts) are likely to keep you around for a late "breakfast". Then it's on to a neat selection of outrageously appetising baked pastas or fresh-made sandwiches, which rotate every couple of days and feature whatever fresh produce happens to be in the shop for the week. You might find pork roll porchetta or pork loin schnitzels, perhaps even goat meat, depending on when you stop by. And finally, don't be afraid to pop in as the sun is setting for a glass of wine and a cheese board before you take home something for a late dinner.
So, if you're looking to jazz up your pantry, dial up your cooking game, or just make your Nonna proud, Fabbrica has got you covered. The idea is simple: fresh is best.
Image credit: Nikki To
---