Face Plus Medispa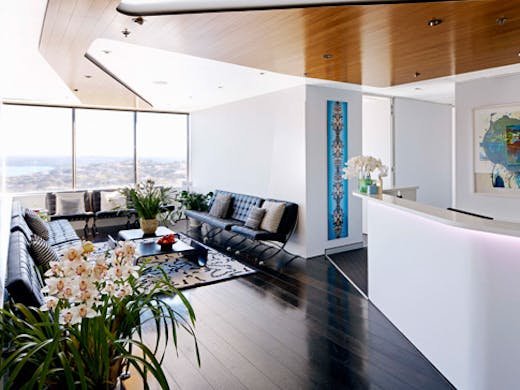 The verdict
In what probably has the best views of any beauty salon in Sydney (on the 19th floor overlooking the harbour), Dr William Mooney's Face Plus Medispa specialises in looking after your face and skin, holistically. Here it's not just about what they put on your face during your visit—it's about assessing your diet, lifestyle and external factors to find a treatment that's right for you.
Once you check in and relax with a cup of tea, you'll be taken into their consulting room to chat about your skin concerns and then your highly trained esthetician will show you to a soothingly dark treatment room before the magic happens (aka, your wonderful treatment). The bed is perfectly warm and so cosy that you'll be forgiven if you dose off mid-treatment (this may or may not have happened on our last visit).
There are a range of treatments on the menu ranging from relaxing facials to more hi-tech offerings including Omnilux LED and Laser Genesis laser technology which help to get your skin super glowy.
For those wanting to do a bit of a Cher and turn back time, Face Plus Medispa's anti aging treatments need to be on your beauty radar. The Titan Skin Tightening option and the Trusculpt are popular choices and help to tighten skin around those annoying areas like neck and stomach (umm yes please).
We tried the Dr Spiller Enzyme Peeling treatment that involved a thorough cleanse, a tingly peel (it didn't show any redness afterward), a soothing massage and finished off with a moisturiser. This treatment left the skin feeling soft and so luminous even days after which we super happy about aaand couldn't stop touching (which we know is bad for our skin but we couldn't help it).
If you're looking for a beauty salon in Sydney that leaves your skin feeling amazing, do your face a favour and pay a visit to Face Plus Medispa.
Image credit: Face Plus Medispa
---