Finders Distillery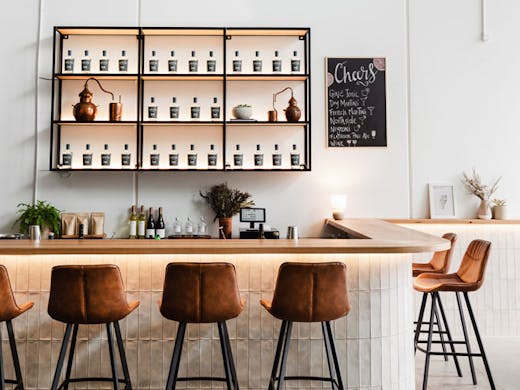 Finders is a part-time gin bar and a boutique distillery heroing native Australian ingredients and all things gin discovery.
It's the first of its kind in North Sydney, launching in the throes of lockdown in April. After initially opening for online orders only, the distillery bar is now open.
Two years after quitting their jobs to travel around the world, Kyle Ford and Georgia Conn found that sampling local produce and visiting gin distilleries were a constant on their bucket lists. Returning to Australia and unable to get the idea out of their mind, they put themselves to work and founded the very first gin distillery on Sydney's North Shore.
Finders Distillery combines Ford and Conn's love for travel and yearning to know more about the craftsmanship and stories behind distilleries they visited in North and South America, Japan and Scotland. The desire to create something distinctive led to their "Location" series. The idea is to source botanicals unique to a specific region in Australia, curating a gin that celebrates the local ingredients and location they come from.
"We wanted to create more than just a product, but a story of Australian produce worth sharing," the couple shares. "The initial idea was for a classic London Dry style gin—punchy, juniper-forward with a complex and smooth palate. But we also wanted to show off certain local flavours."
Housed in an industrial unit in St. Leonards, gins are made in a 300L copper pot in individual batches. And their first batch, the Australian Dry Gin, has delicate, floral notes of orange peel and chamomile. Using native gum and wattle seeds local to North Sydney, the first of the Location series celebrates what it has set out to do.
If you're keen to drop in and suss out what Finders is all about, the distillery bar is open on Fridays and Saturdays. Here you can saddle up beside the still and sip G&T's, Negronis and dry martinis, or try the "Northside", a bespoke cocktail that pays homage to Finders' north-of-the-Bridge location. A selection of bar snacks is also on hand as well as Flatrock Pale Ale and wine.
Finders also hosts weekly distillery tours and tastings. on Saturdays from 1 - 2pm. Book your spot here. And, like all good distilleries in 2020, Finders also makes a gin-based hand sanitizer.
Image credit: Finders Distillery
---
You May Also Like
Bars & Pubs
Barangaroo, NSW
From the Efendy group, Baharat is a cocktail bar and spice shop inspired by…
Restaurants
Barangaroo, NSW
The ever-growing Barangaroo food scene can count a Korean BBQ among its…