Flyover Fritterie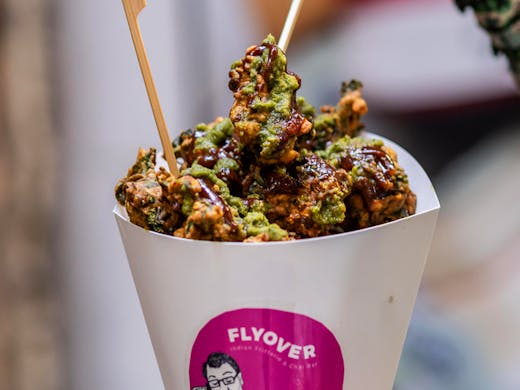 Flyover Fritterie has traded in its tiny CBD digs for a roomier kiosk-style space in Redfern. But don't worry, it's still dishing up big, fresh flavours and all-vegan plates.
Sporting flavours straight from the streets of Northern India, Flyover Fritter is the genius of Delhi-born, Sydney-based artist Gunjan Aylawadi. The concept had been floating around at markets (Sydney Vegan Market, for example), then set up in the city. Now, it's on Redfern's bustling Regent Street—and it's got enough space for you to sit in and enjoy its plant-based goods.
If you're unacquainted, Flyover Fritterie specialises in modern variations of the ever-popular Indian fritter, also known as pakora.
The menu is made up of just four items, each is vegan with gluten-free options too. You've got your fritter of the day, always made with chickpea flour and seasonal veggies, spices and herbs and served in a paper cone topped with homemade chutney (tamarind or mint and lime).
Then there's an Indian stew called "Khichri", which replaces rice with quinoa. The "Poa Burger" features pickled beetroot in a soft bun with tamarind chutney. The "Street Style Salad" substitutes boiled potatoes from a traditional recipe with fresh avocado, spinach and crunchy puffed rice—making it an Aussie spin on traditional Indian street food.
Flyover Fritterie's second speciality is perfectly delicious hot and cold chai. Rather than packet or powdered chai flavouring, you can expect all-vegan spicy chai, freshly brewed in small batches and made with Bonsoy. Chai blends will change every few weeks to match the weather and the Flyover Fritterie menu.
Image credit: Flyover Fritterie
---
You May Also Like
Bars & Pubs
Sydney, NSW
Found on level eight of Swissôtel Sydney in the heart of the city, Arches on…