Fonda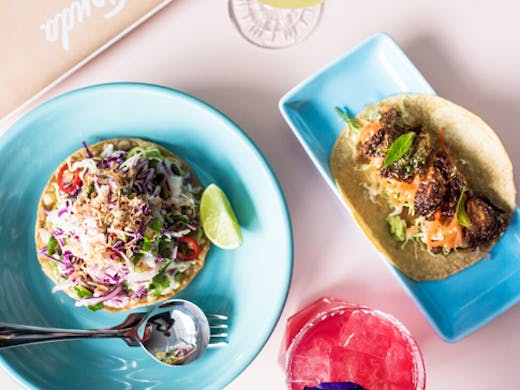 The verdict
Just when you thought Sydney's Mexican food scene had reached its peak, we come along to tell you there's more to come. So much more. Melbourne fave, Fonda, has just opened in Bondi Beach and they're serving up traditional Mexican eats on the daily. They're taking some of Australia's best produce and taking it to the next level so you and your crew can (and should) go HAM on their share-style menu.
Making the most of the Bondi locale, Tim McDonald CEO and co-founder promises a casual take on the Melbourne restaurant. From the menu, expect kangaroo burritos and a DIY taco sharing board with slow-cooked pork belly, braised beef short ribs, hot tortillas and all the guacamole and salsa you can handle. To wash it all down there is only one thing you need to order—margaritas. You knew we were going there, didn't you? But there are plenty of non-cocktail options like wine and craft beer for days. You know where to find us this weekend.
And just because the guys at Fonda are the bomb, they have hooked us all up with USB phone chargers at every seat, so you don't need to worry about your phone battery running out mid-Insta. Fonda, we're ready for you.
Image credit: Catilin Hicks
---