Fortunate Son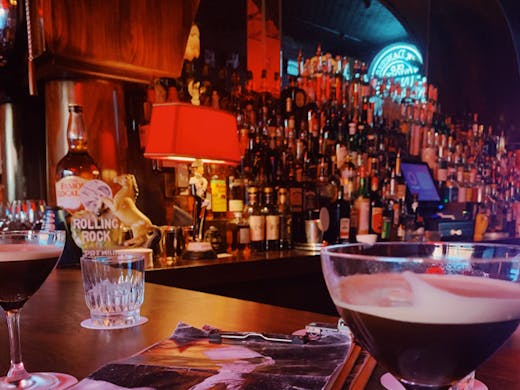 Naming your bar after that Credence Clearwater Revival song is definitely a good start. Where ever you are right now, fire up Spotify and hit play on the tune Fortunate Son—and that's the Southern-style Mississippi River rock vibe you're going to encounter at this brand-new Newtown bar (side note: despite their swamp rock style, CCR were actually from sunny San Francisco).
Just a stone's throw from the Enmore Theatre, owners and bar legends Jason Crawley and Dylan Howarth have built a neighbourhood bar concept based on the romance of great music. Under a neon red glow, you're in for a 300 strong collection of mezcal (hell yes), tequila and whisky, as well as proper champagne and a lengthy cocktail menu.
Said cocktail menu is divided into three parts. The first, "Fortunate One's" features Crawley and Howarth's renditions of classics, like a Tommy's Margarita (made with Herradura Blanco, lime and agave), a gin fizz (Fords gin, lemon, lime, cream, simple syrup, orange flower water and sprinkles) and a mint julep (Woodford Reserve, mint and simple syrup). Each drink on the menu details its glassware too (the Tommy's is served short, the fizz tall and the julep in English pewter).
The second section is titled "Fortunate Son's" and it's here that Crawley and Howarth get a bit more creative. "Insomnia" is a tequila espresso martini, made with Herradura Blanco, cold drip coffee, ristretto liqueur and agave. It is, in a word, delicious.
"Smoke and a Pancake" is made with Gentleman Jack, Tempus Fugit Banana, maple syrup and Ardbeg and chocolate bitters served short on big ice. The "Mexican Razorblade" is made with Herradura Blanco, white grapefruit, lime juice, Campari and simple syrup, and is served in a dainty coupette.
Lastly, there's a half-page dedicated to spiked fresh juice highballs—like fresh pineapple juice with mezcal and black pepper (the "Waco Kid") and freshly juiced navel orange with vodka and a float of Galliano L'Authentico ("Harvey Bangs").
Fortunate Son also pours a neat set of local beers, French champagne by the magnum, bottle or glass, and a selection of mostly Aussie wines.
To eat, it's hot dogs, of course. There are four to choose from—a classic with mustard and ketchup, a New York-style hot dog with Gutsy sauerkraut, a chilli dog with cheddar and jalapeno and a vegan dog with a plant-based Frankfurt.
Long story short—get yourself to Fortunate Son for a good time. Even with that Bad Moon Rising.
Image credit: Urban List
---