Giuls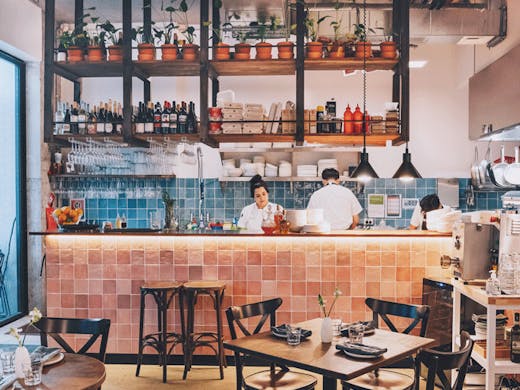 Beneath some bright pink and white striped umbrellas on Crown Street, Giuls is where you want to head when only good vibes and a big ol' bowl of pasta will do.
Cool and casual with a breezy neighborhood vibe, behind Giuls is Rockpool alumni, Giulia Treuner—so you know it's going to be good.
Inside is dotted with dark timber tables and chairs, complete with an elegant tile bar perfect for an aperitif. Beneath those pop-bright umbrellas is ample space for al fresco dining, so you can people watch as you tuck into your carb-fuelled feast.
The menu at Giuls has been dreamt up by Michelin Trained Alessio Rago alongside head chef Esmeralda Perez, and it takes its cues from Tuscan cuisine, using seasonal produce, fresh-as seafood, and, of course, handmade pasta.
For starters, there are plates of antipasti, slabs of fluffy house-made focaccia, and local oysters served natural or with a house raspberry and thyme dressing.
You absolutely cannot go past Giuls' arancini—a blissful crunchy exterior with gooey Scamorza smoked mozzarella centre, topped with parmesan and truffle aioli. And, we know you guys live for burrata—Giuls' comes served with gold leaf and burnt figs. It's extra, and it's perfect.
You'll need to save some room because the main event is Giuls' pasta—think squid ink fettuccine with crab, cherry tomatoes, and chilli; vodka conchiglie, pancetta, and taleggio cheese; and rigatoni with lamb ragu. Pay attention to the nightly pasta specials too, which is where that fresh-as seafood really comes into play.
For dessert? Well, it wouldn't be complete without tiramisu on the menu, but there's a mango cheesecake on offer too.
As for drinks, you can expect a concise beer list, a handful of cocktails, and wines available by the glass and bottle.
Image credit: Giuls
---