GoodTime Burgers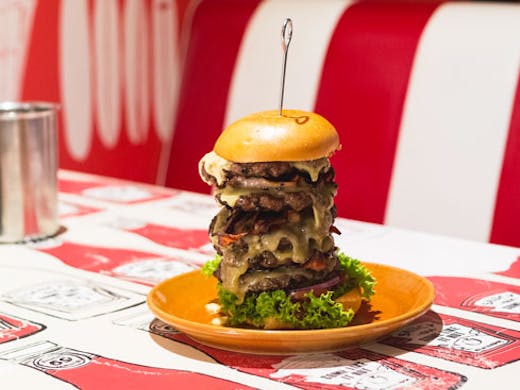 The verdict
The guys behind Goodtime dedicate themselves to making all your burger fantasies a reality. Priding itself on the typical USA experience, this cheeky Bondi Junction joint is decked out to resemble the classic American diner complete with red vinyl booths and checkerboard floors.
And their burgers prove to be just the ticket to achieving our burger-filled version of the American dream. Created with fresh, local ingredients served between two extra large baked buns with a side of hand-cut ships, GoodTime serve up some of the best burgers in Bondi Junction. At just $10 you can sink your teeth into their Good Ol' Time burger, a delicious take on a classic complete with wagyu beef pattie, tomato chutney and chipotle aioli. For those that like it hot, the Bondi Hot Bird is bound to hit the spot with its Southern spiced chicken doused in hot sauce and accompanied by a kale slaw to keep things fresh. But for those that come with an extra large appetite, then feast your eyes on the Big Kahunas with GoodTime favourite, the Juicy Lucy being a surefire way to satisfy your hunger-pangs. Read: cheese-stuffed wagyu beef pattie. Nuff' said.
However, for the mightiest of burger champions, GoodTime Burgers have got a Man v Burger Challenge to see what you're truly made of. If you can devour their 1 kilo Juggernaut burger in under 8 minutes, you'll find yourself with a free meal and a place on their Wall of Fame, not to mention true burger glory.
However, after all that feasting you're gonna need a beverage or two. It's a good thing then that there are plenty of local craft beers on offer to top off what's guaranteed to be a whopper of a good time.
Image credit: Jackielyn Powell
---