Hot Dog Yoga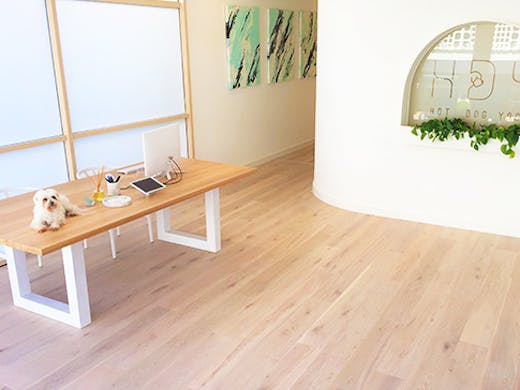 The verdict
Everyone knows the worst thing about yoga is the distinct lack of dogs. Everyone. Well team, a couple of Double Bay locals legends have just opened a brand new yoga studio, and not only have they given it a ridiculously cute name (Hot Dog Yoga), they've got a dog receptionist and all of your puppies are welcome. TBH, even if you don't have a pup, it's worth heading here for the endless cuddles.
Now, sadly your dog can't actually partake in the yoges, but what they can do is hang out in the reception with Pavlova (!!) the dog. Okay okay, we'll actually tell you about the studio now.
The studio is channelling minimalist chic, which is exactly what we want while trying to get our zen on. They've kitted out the room with Far Infrared Technology to heat the space and give you maximum flexibility in class, and the ventilation is next lev. The bathrooms are decked out with errrythang you need (because no one likes a heavy gym bag), their yoga mats are by Californian company, Manduka—both non-toxic and latex free. These are all very good things, trust us.
Phew, that's us sold guys. Did we mention it's dog-friendly?
Image credit: Hot Dog Yoga
---