Jinja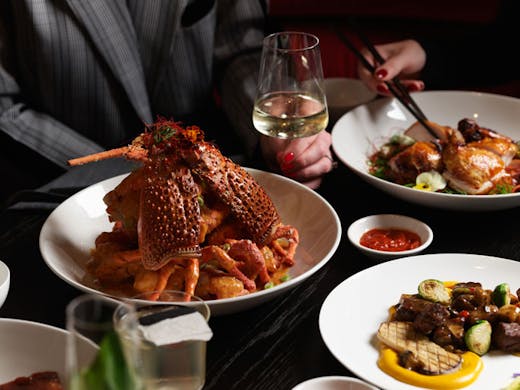 There's no denying that a bulk of Sydney's charm comes from its diversity. From Burwood to Strathfield, the beating heart of Asian culture and history has been well-integrated throughout the city. Our cravings for Eastern delicacies never go unsatiated—lucky us—and this August, another tasty restaurant is rolling into town.
Situated in Macquarie Park's Governor Hotel, Jinja is North Sydney's new contemporary Cantonese restaurant. Come here often enough and you'll be well-acquainted with Jinja's namesake—local Sydney legend Jinghua (more fondly dubbed "Jinja" due to her foodie obsession with ginger spice)—who is the enigmatic muse of artist Ronnie Samuels's works, which are displayed throughout the venue. In essence, this flash new restaurant is a tribute to her Chinese heritage.
On the decor, architecture firm Archebiosis has married old-world Shanghai with colonial Hong Kong and modern Beijing—think intricate wallpaper designs, deep-chocolate parquetry flooring, and lush botanical-patterned carpet juxtaposed with exposed brick and neon signage. Beyond the expansive open-plan dining room, with its curved red velvet booths and low lounges, there are secret rooms and private wine cellars artfully hidden behind sliding doors.
Head Chef Sebastian Tan (Silks) and Specialty Chef Kushal Lama (Hakkasan) head up the kitchen, blending traditional Cantonese recipes with contemporary flair. There are a whopping 20 dim sum dishes, including lobster and truffle spring rolls, sesame prawn brioche, xiao long bao, har gow, and honey black pepper beef baked cheese buns. Then, move on to showstopping dishes like the Cantonese roast duck, lobster san choy bau, Szechuan mapo tofu, a variety of rice and noodles, and Jinja's signature barbecued smoked pork ribs.
Of course, what's Cantonese dining without tea? The star of the dining room is a ceremonial-style tea tasting dispensary. If tea doesn't tickle your fancy, though, you can take your pick from Australia's largest collection of baijiu (clear liquor) and cocktails inspired by The Eight Immortals, a group of legendary xian (immortals) in Chinese mythology.
And the booze doesn't stop there, with an entire wall display of more than 10o wine bottles, from Burgundy to Barossa and including rare and speciality wines, top-dollar champagnes, and chilled reds.
Jinja is slated to open on Wednesday 3 August 2022. Bookings are now open via the website.
Image credit: Steven Woodburn
---
You May Also Like
Restaurants
Sydney, NSW
If you love flavour and sharing a spontaneous meal amongst fifteen of your favourite…