Keg & Brew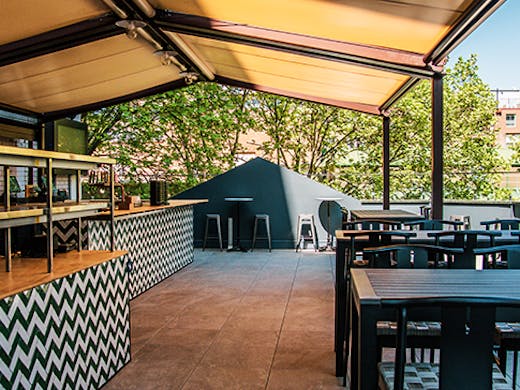 The Verdict
Once upon a time, the KB Hotel transformed into the Keg & Brew—the ultimate no-frills pub for all things bourbon and beer. Now, after a thirsty re-furb (amounting to a casual $10 million-plus), this age-old gem is back big time and with a whole lot more in store for you.
The heritage-listed hotel now features four levels spanning a ground floor, restaurant, function room floor and—the pièce de résistance—an open plan rooftop bar. The pub's new look champions the institution's original design including retention of its original staircase and wall layouts.
At the ground bar, you'll find more than half of the hotel's 50 taps which pour a mix of craft beer and mainstream brews. Once you head on up to the first level, you're in for a 70-seat full-blown restaurant and bar in an area that used to house the hotel's guests. The second floor is where you'll cross the function room and bar (which can then be divided into smaller breakout rooms) and fits up to 120 people.
Finally, Keg & Brew's open-air rooftop offers sweeping views of the city and she's complete with a bar, pizza oven and one of Australia's largest TV screens so you can round up the crew and watch all the big games.
Image credit: Supplied
---