Kingpin North Strathfield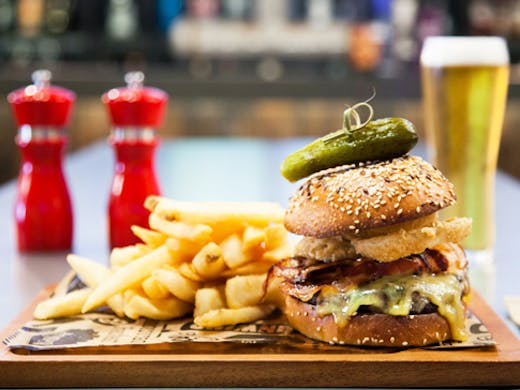 The Verdict
A little slice of inner city luxe is heading afield, with Kingpin having moved into North Strathfield this April. Yep, just when you thought all the fun was happening OTB, the burbs suddenly got a whole lot more fun. Kingpin is a revolutionary entertainment destination that's not only a restaurant, but a bowling alley, gaming arcade, karaoke sports bar and laser tag venue all rolled into one. We'll give you a moment to collect yourself—this is big.
But it's not just the super convenient location that makes Sydney's Kingpin an entertainment extravaganza; it's the premium event and dining spaces that make it next-level luxe.
The new venue features 'The Hub'; an open casual dining restaurant serving delicious bites like the signature 250g Wagyu Beef burger, 19 bowling lanes, a sports bar, and VW Combi Bistro-Cafe, 'Room 300'; a 45-seater function space with private bowling lanes and a karaoke room aptly in the 'Playtime' zone. There's also a stellar arcade jam-packed with Australian-first games, and escape rooms. Stay tuned for that last one, because they're not quite ready to terrify you yet.
The future of bowling is here, and we bloody love it.
Book your night out here.
Image credit: Federica Portentoso
---