KitKat Chocolatory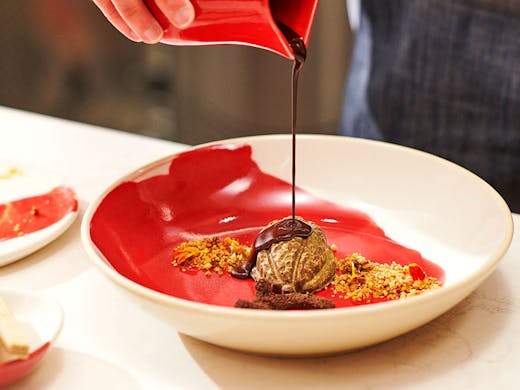 The Verdict
To celebrate World Chocolate Day on Tuesday 7 July, the KitKat Chocolatory will be handing out FREE hot chocolate all day.
Chocolate lovers of Sydney—your prayers have been answered. Yep, Sydney has scored its very first KitKat Chocolatory, which means all your sweetest foodie dreams can actually be brought to life.
No shock, you'll find this guy located in the middle of Sydney's bustling CBD and it's packed with a tonne of premium chocolate antics we guarantee will bring out your inner Augustus Gloop.
First up, you'll want to hit the "Create Your Break" station—a chance for you to, quite literally, personalise your very own eight-finger KitKat in store. There are up to 30,000 possible combinations with a slew of premium chocolates to choose from, an epic line-up of gourmet toppings and ingredients to add on, and custom package designs to wrap your masterpiece in.
At the "KitKat Tasting Table", all you have to do is sit back, relax and down all the next-level chocolate creations (a dream come true, right?). The dessert-style degustation gets plated up before you and will change up according to evolving chocolate trends. You can book this 90-minute feast for up to 10 guests.
If you can't indulge in the full 90-minute affair, fear not—the team here has conjured up an actual chocolate train (yes, exactly like our favourite sushi train) that lets you come in and pick out new KitKat creations with fillings such as yuzu ganache, peanut butter and raspberry and even wasabi crème on the go.
And let's face it, if you're in need of the perfect gift that will no doubt give you all the major brownie points, this boutique houses an exclusive "Mix Your Break" range, which is made up of 12 individually wrapped creations, including cotton candy, guava, churros, sake and matcha.
The Sydney flagship KitKat Chocolatory will officially open on Monday 6 July.
Image credit: KitKat
---