La Di Darts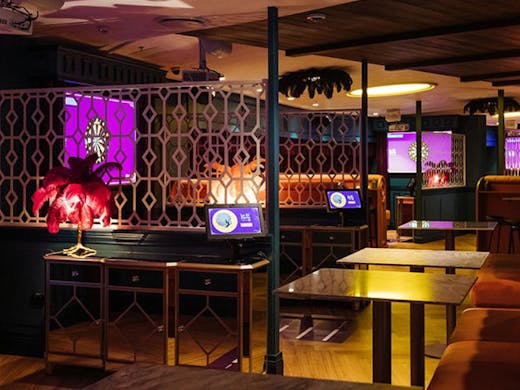 While sipping on margs and dancing the night away is always a winner, you can't beat an evening embracing your inner big kid.
We're not kidding when we say Funlab's AR darts experience in Darlinghurst can't be missed. Clear your calendar because La Di Darts is now open to all you fun-seekers, and it delivers on every aspect of a good time.
Before we jump into the drool-worthy food and booze, let's hit rewind. What exactly is La Di Darts? As the name suggests, it's based on the classic pub activity, darts—but we guarantee this reinvention is anything but ordinary.
The team have created a truly immersive environment with augmented reality technology and a captivating dartboard projected onto the wall. You still use a classic dart to throw, but all scores are electronically saved in real-time—no sneaky cheating here!
There are four different types of games on the line-up; old dart faves like 'Killer' and 'Disco Wall,' plus some La Di Darts inventions like 'Robin Hood,' an archery-style race. Whether you're a pro or just dipping your toes in, there's a game for everyone.
The surprises don't stop there. Each private booth is decked out in The Great Gatsby-themed vibes so you can throw on your glad rags and gear up for a night of competition in style.
On the food menu, you'll have a choice of pizzas, burgs or some stand-out sandos. The veggie Ruben, featuring eight-hour hickory-smoked beetroot, has our name all over it. And you can wash it down with some inventive cocktails.
Image credit: La Di Darts
---