La Salut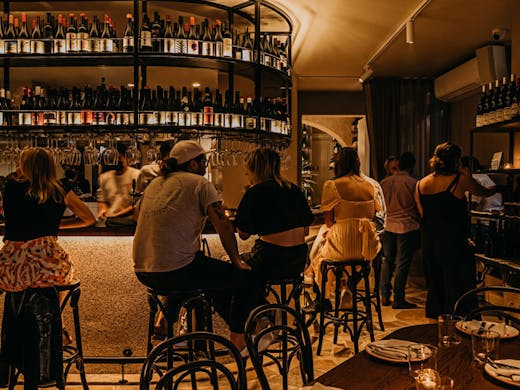 From the dream team behind Dear Sainte Éloise, Ragazzi and Fabbrica, La Salut is a 40-seat Catalan-inspired wine bar housed within the recently revived Norfolk Hotel (now called Norfolk House).
Like all of the Love Tilly venues, you'll be in for a knock-out wine list, though this time the Barcelona-themed venue will be throwing the spotlight on often underappreciated next-gen Spanish drops.
"The previous generation of Spanish winemakers embraced technological winemaking and looked to France for inspiration," says Love Tilly's Matt Swieboda. "The current generation is looking in its own backyard, resurrecting long-forgotten indigenous grape varieties and techniques used by their fathers' grandfathers."
As for food, Ragazzi executive chef Scott McComas-Williams will be reminding us all of his skill with Spanish and Catalan fare (his resume ticks off Els Tres Porquets, the Michelin-starred Els Casals in Catalonia, and MoVida in Melbourne and Sydney).
"Barcelona is similar to Sydney and both cities are on the coast, which means they have access to sensational seafood," says McComas-Williams, "and they're both multicultural cities, so expect influences from Korea, Japan, and Andalusia on the menu, too."
Expect snacks like mussels, hot sauce, and chips (an homage to a vermouth bar in Barcelona called Morro Fi); various jamon, manchego, and anchovies, and fried quail with morcilla spice. There'll also be larger plates to share with plenty of fresh seafood in the mix too. La Salut will also have a bottleshop so you can take your Spanish vino home, and, the best part, outdoor seating for max Euro summer vibes.
Designed by Sarah Watt, who also dreamt up the interior for Fabbrica and Ragazzi, La Salut follows a similar style, with a curved central bar, and the group's signature warm low lighting that's perfect for date nights and escaping the general rush of your day with a vermouth spritz in hand.
Image credit: Nikki To
---
You May Also Like
Restaurants
Surry Hills, NSW
Bringing the fun, energy and excitement of Paris to Surry Hills' Crown Street,…
Restaurants
Surry Hills, NSW
Tucked into a sleek renovated terrace on Fitzroy Street, Fauna is a neighbourhood…