Lankan Filling Station
CONTACT
Ph: (02) 8542 9936
Visit Website
Ground Floor/58 Riley St
East Sydney, 2010 NSW
Show on map
open
---
Opening Hours
| | |
| --- | --- |
| SUN | 10:00am - 4:00pm |
| MON | closed |
| TUE | 12:00pm - 10:00pm |
| WED | 12:00pm - 10:00pm |
| THU | 12:00pm - 10:00pm |
| FRI | 12:00pm - 10:00pm |
| SAT | 10:00am - 10:00pm |
---
The Details
Need to Know
Gluten-Free
Great for Dates
Serving
---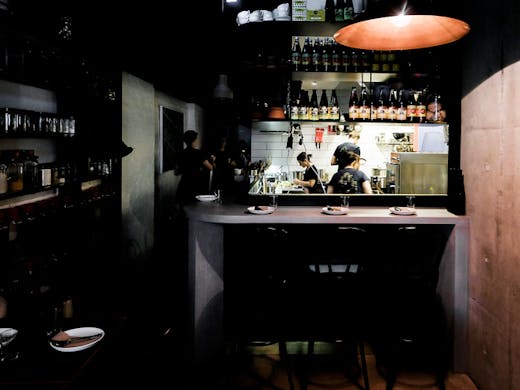 Lankan Filling Station is a truly original restaurant. Yep, we're calling it.
Sri Lankan restaurants are few and far between in Sydney city, with our 'Little Sri Lanka' considered to be in the western Sydney suburb of Toongabbie. You may have tried Dish in Glebe or Kammadhenu in Newtown, but Lankan Filling Station doubles down with trendy Darlinghurst digs and a highly acclaimed chef (more on that later). The killer combo creates a dining experience you simply won't find elsewhere in the city.
Speaking of the incredible chef, it's time to get familiar with O Tama Carey. You may have enjoyed her hoppers at Carriageworks farmer's markets, but the Adelaide-born, Sri Lankan-descended master has actually worked her way through some of Sydney's best kitchens, including Billy Kwong and Berta.
There's a whole list of reasons we think you should run, not walk to Lankan Filling Station (no really, we wrote one right here).
For a quick overview of what's amazing, the egg hoppers are an unmissable feature on the menu. For $6 a piece, these little pancake bowls made of fermented rice batter will blow your mind if you've never eaten them before. Traditionally, you tear off bits of the pancake to scoop or soak up your curry, although you'd be forgiven for heading straight for the cutlery!
You'll also want to try traditional pan rolls, sambol, the fish curry, string hoppers, the teas, and the gelato. Lankan Filling Station is serving up some one-of-a-kind flavours, including ginger and turmeric or spiced jaggery (Sri Lankan palm sugar). The coconut and coffee slushie will be a key caffeine hit come summer.
The wine list is a neat roster of organic and minimal intervention styles. Cocktails are made with carefully-selected spirits that all offer a little nod to Sri Lanka. For example, the gin is brewed in the nation's capital, Colombo. There's also mead and a Sri Lankan arrack for those who dare!
Image credit: Bob Barrett.
---
You May Also Like
Bars & Pubs
Darlinghurst, NSW
Atop The Strand Hotel in Darlinghurst, Kasbah is a Sydney rooftop bar offering an…
Restaurants
Darlinghurst, NSW
Joining Sydney's collection of Japanese venues offering an omakase, Moku serves…