L'Olio La Gnoccheria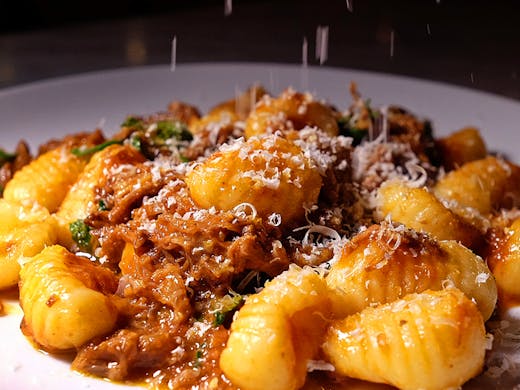 Gnocchi has long held a place in our hearts. Those soft, soul-warming, doughy dumplings drenched in Italian-style sauces are a go-to when the temperature drops, but seem to fit just as well for a summer sunset paired with spritz.
Enter L'Olio La Gnoccheria, an Italian spot created to indulge your undying love of the pillowy good stuff. L'Olio has run as an Italian eatery for over ten years, but founder and executive chef Melissa Canclini wanted to evolve the restaurant's concept and focus specifically on one of her great passions: gnocchi.
"Growing up, I was always in the kitchen experimenting and trying to get this recipe right. My gnocchi cannot be mimicked and only very few know the secret" says Canclini.
"My heart instantly turned to taking the gluten out of gnocchi and experimenting with vegetables until I was able to unlock the secret to completely vegan and gluten free gnocchi combinations."
As for what variants of gnocchi are on offer, you can go for traditional styles like potato gnocchi Napolitana and the hefty, cheesy favourite gorgonzola.
Or, branch out with pork and veal gnocchi bolognaise, a porcini mushroom gnocchi with sage and garlic butter, or squid ink gnocchi mare with prawn, calamari and crab. We're also very keen on the gnocchi ragu with slow cooked beef and chili, as well as the spinach and ricotta gnocchi. Each style is available vegan and gluten-free.
Image credit: Getty.
---