Loulou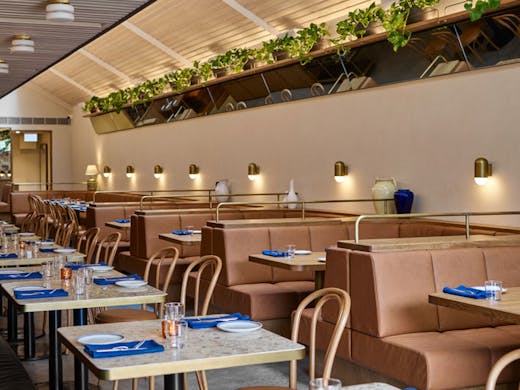 Over the bridge in pretty Lavender Bay, Loulou is the latest addition to Sydney's neat collection of French-inspired eateries. Part boulangerie, bistro, and traiteur, there's a lot going on at this triple act all-day eatery and it's well worth visiting for breakfast, lunch, or dinner.
Begin your day at the boulangerie, led by head baker Brendon Woodward (ex-Chouquette Boulangerie, Bread Ahead Bakery London). Here, the team bakes four times a day—yep, you read that right—four times a day. This means your baguette will be ultra-fresh no matter what time of day you drop in. Beyond traditional baguettes, there's a full menu of delicious breads to try—like pumpkin bread, the house specialty pain au levain (sourdough), and a house-made gluten-free loaf too.
You'll also find perfectly crunchy and buttery croissants, pain au chocolat, Paris-Brest filled with a hazelnut or pistachio cream, and cakes like burnt Basque cheesecake and mille-feuille. Pair that with ST. ALi coffee, and you've got a very cheery start to the morning.
Alongside the boulangerie is Loulou's traiteur—a neighbourhood staple on the streets of Paris, but a relatively foreign concept for Sydney. A lot like a deli, here French-born butcher and chef Cyprien Picard (ex-Victor Churchill) is in charge. Shop classic French-style charcuterie like saucisson sec, Toulouse sausage, country terrine, and chicken liver parfait sliced to your liking. There are also cook-at-home meals (like beef wellington on weekends), whole and half rotisserie chickens, ready-made salads, and cold ratatouille to heat up at home.
If you're not heading home, Loulou is a stone's throw from Lavender Bay's leafy parks like Clark Park Wendy's Secret Garden—so the traiteur is your perfect pre-picnic pit stop.
Finally, Loulou's sprawling bistro, helmed by Billy Hannigan (ex-Bistro Guillaume and Michelin-starred The Ledbury London), offers up French classics, but a little lighter than their more-traditional counterparts.
You need to start with a sampling of Loulou's bread and cultured butter, baked fresh next door. For lunch and dinner, there's a caviar service if you're feeling fancy, hand-cut steak tartare and potato crisps, chicken liver parfait served with warm brioche, a classic steak frites, and, for dessert, apricot mille-feuille or rhubarb soufflé. Pro-tip for vegan and gluten-free diners: scan the QR code on your menu to see which dishes are dietary-friendly.
To drink, we recommend kicking things into gear with Loulou's signature martini, which comes served with a pickled onion, Sicilian olive, and caper berry on the side. From there, you can peruse a menu of Champagne and Australian and French wines.
Designed by H&E Architects, the crew behind Chiswick in Woollahra, Loulou has plenty of charm with chic royal blue awnings, leather banquettes, mosaic tiles, warm brass and timber accents, and a roomy open bar and kitchen.
Boulangerie and traiteur hours: 7am - 8pm daily
Image credit: Steven Woodburn
---